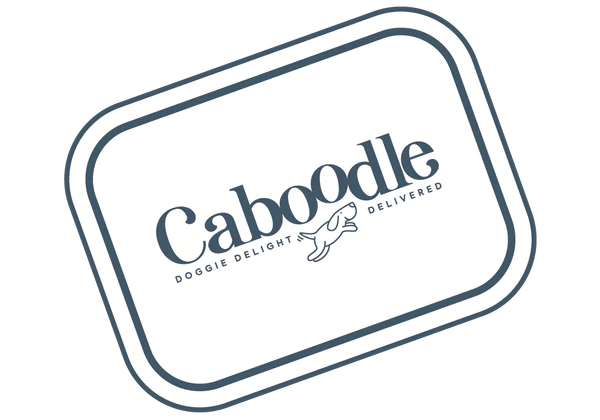 Wet dog food for small dogs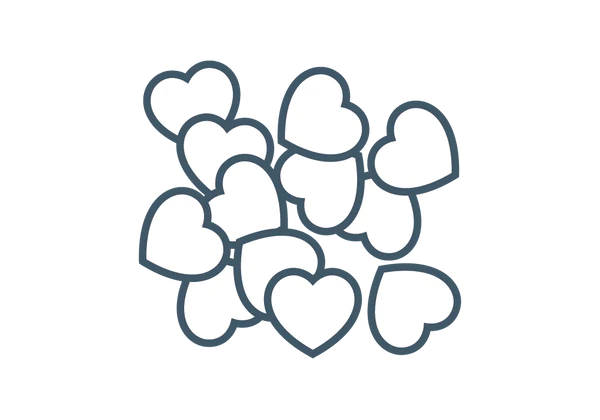 Dog Treats for smaller breeds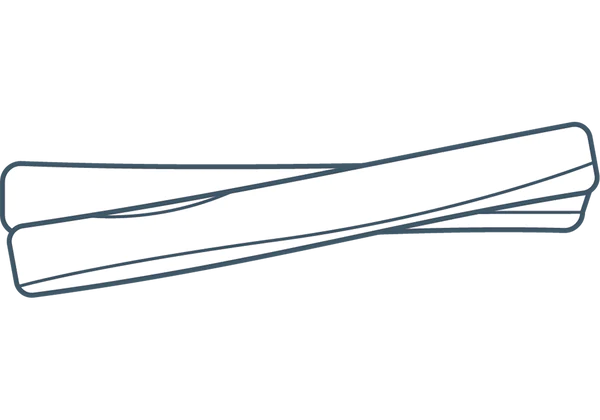 Delightful Dog Chews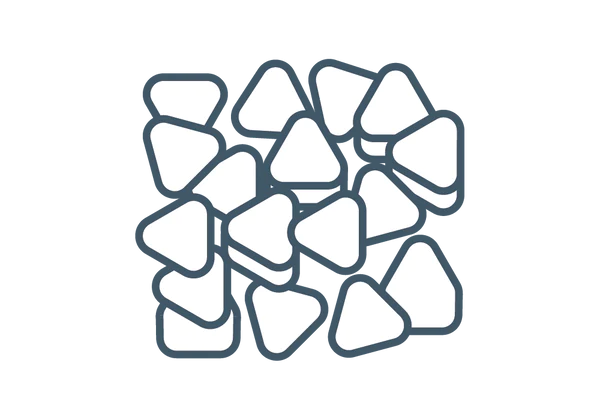 Dry food benefits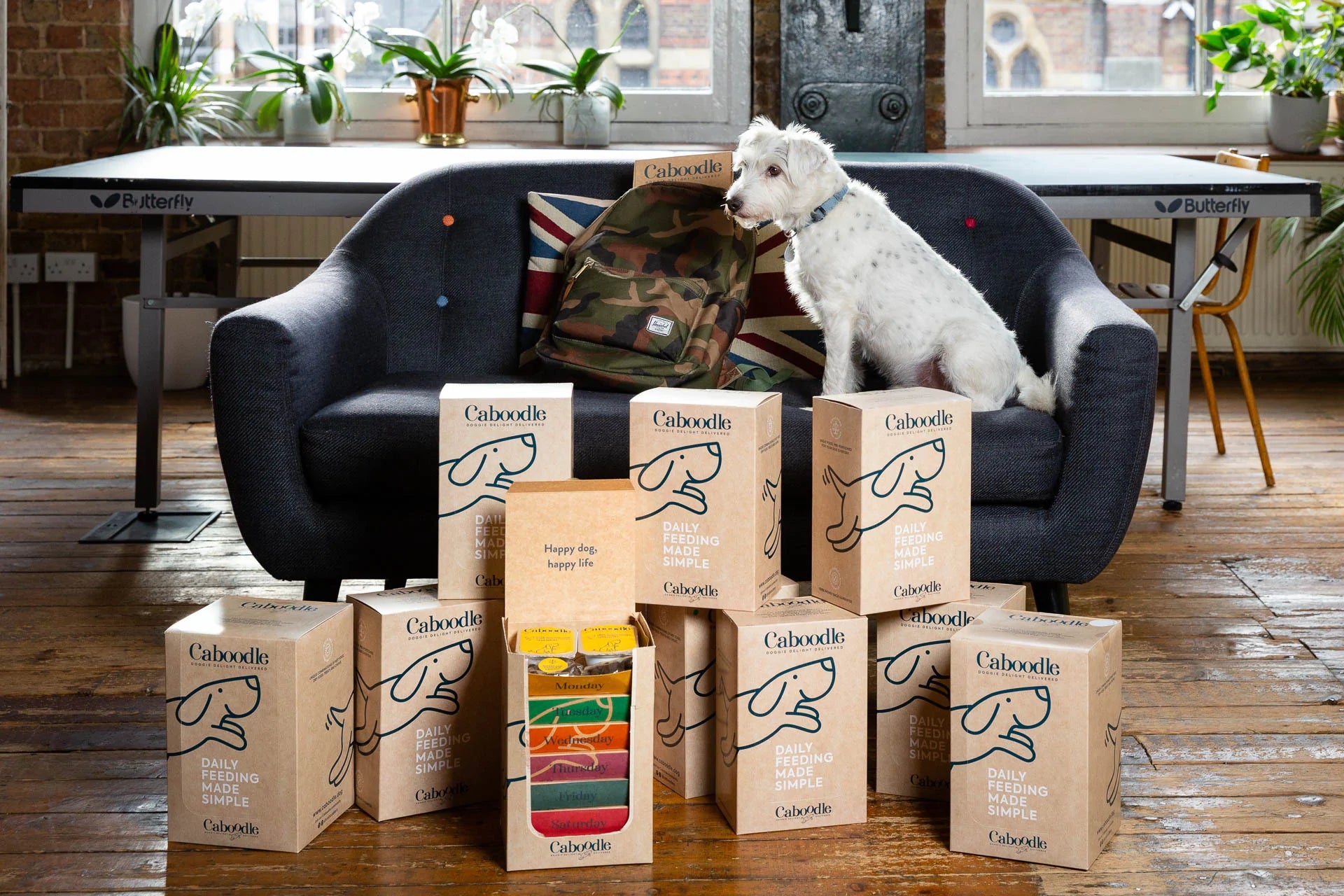 Delightful dog food for small dogs
If you're looking for dog food for small dogs, you've come to the right place. Here at Caboodle, we know that it can be difficult to find the right portion sizes for your small dog. That's why we provide a wide range of options for portion sizes, for small, medium, and larger dogs. We also have a variety of flavours available so that the food is varied and your pooch is happy!
Get started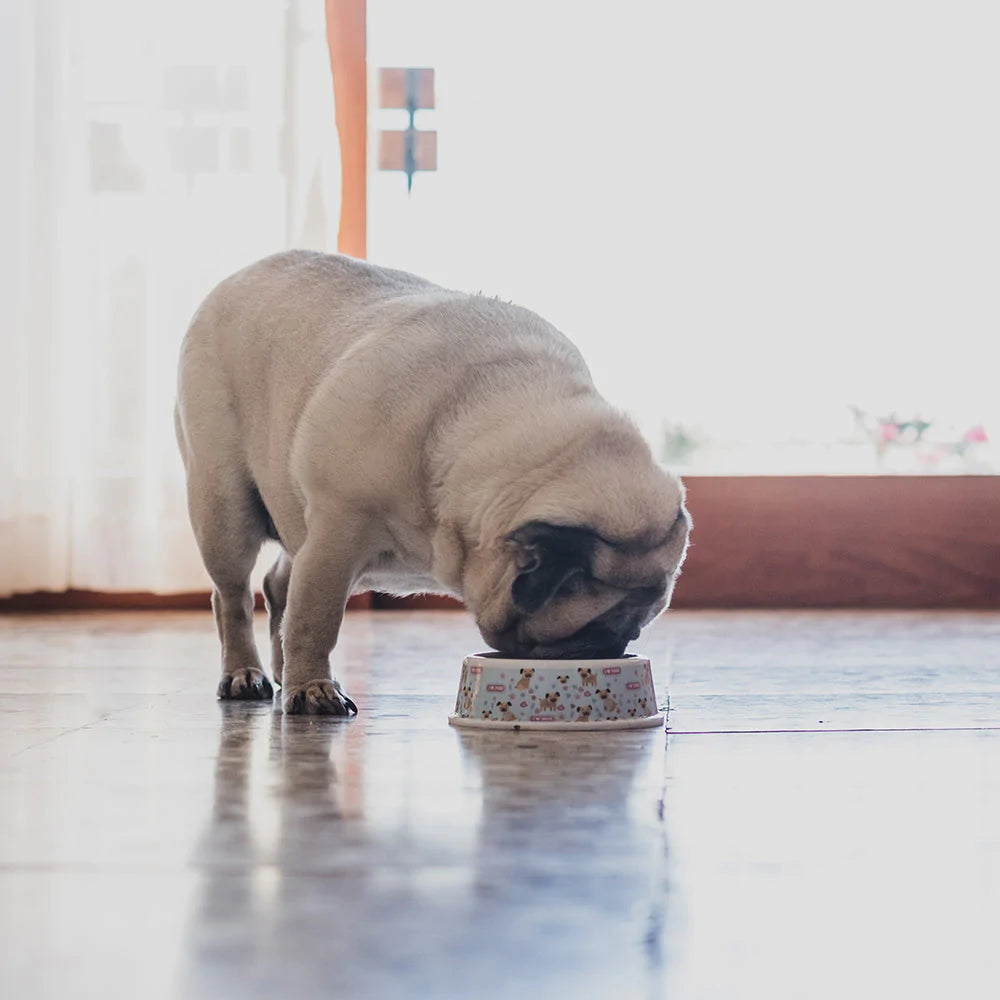 Small breed dog food
Small dog breeds have a lot to offer, they're cute, and they're cuddly, but they can be fussy! So, if you're looking for dog food for smaller breeds, you've come to the right place. At Caboodle, we have done plenty of research into dog food for small dogs, so let's explain to you what makes excellent dog food.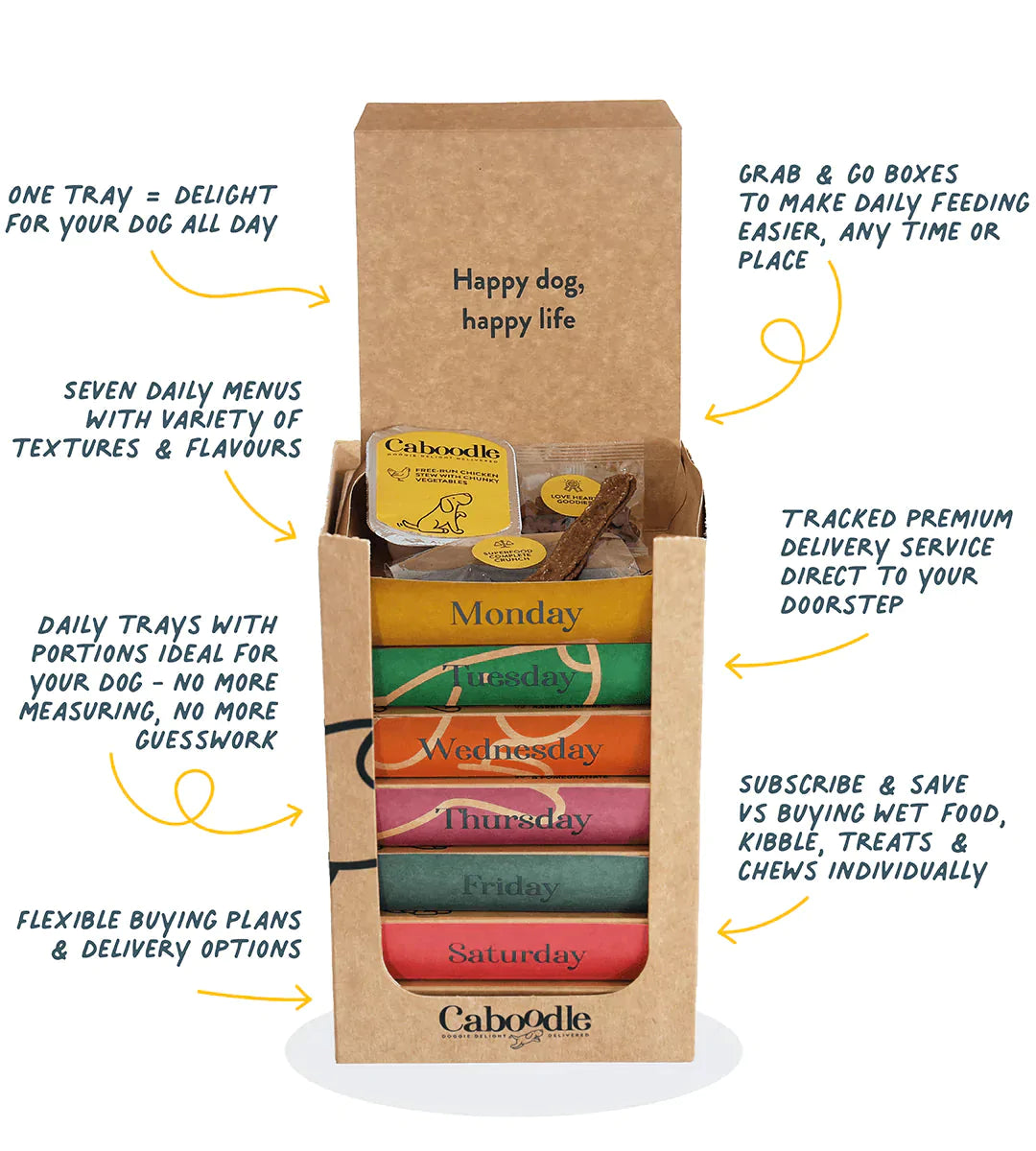 Wet & dry dog food for small dogs
The best dog food for small dogs has a good mixture of wet and dry food. Not only does this provide the best of both worlds texture-wise, but the right food can have positive health benefits too. Good quality kibble (such as the dry food we sell) is full of protein and nutrients and has the perfect texture to maintain good teeth health. Across the week, your pooch will have kibble such as Salmon, sweet potato, beans, and an omega-3 supplement. Additionally, there is also our dried superfood blend (containing dill, spinach, asparagus, fennel, and tomato).
Our Food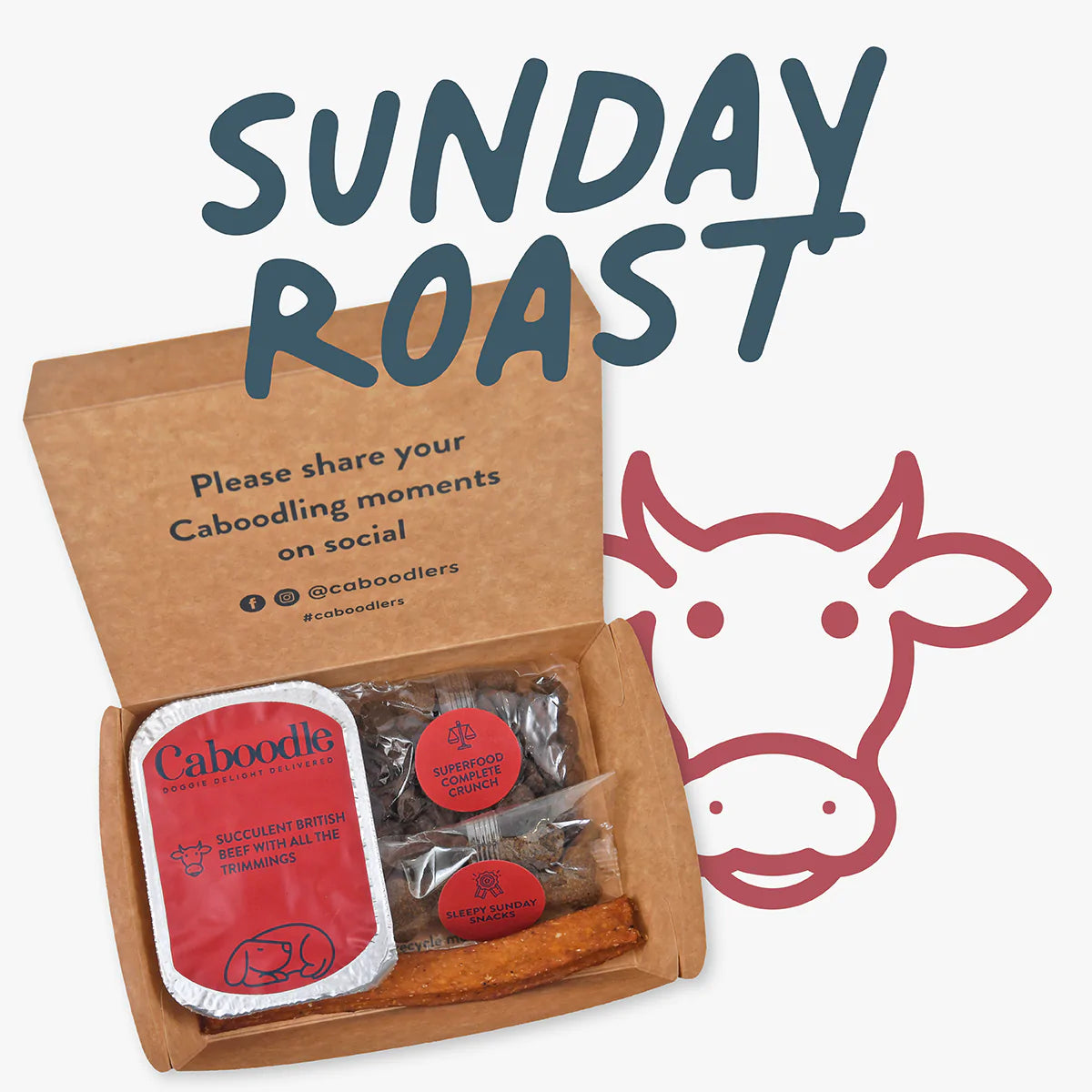 Wholesome dog food for small dogs
As you can see plenty of healthy food above, and all served in the right quantities for your small dog. If you look at what Salmon can offer alone - your four-legged friend will have access to omega-3 fatty acids. This will support the immune system, may decrease inflammation and can also maintain your dog's fur coat so it looks shiny and healthy. When you look into the others such as Spinach, this provides an excellent source of vitamins A, K, and C. Fennel contains vitamin C, vitamin A, calcium, iron, and potassium – which all support bones, vision, the immune system, and more!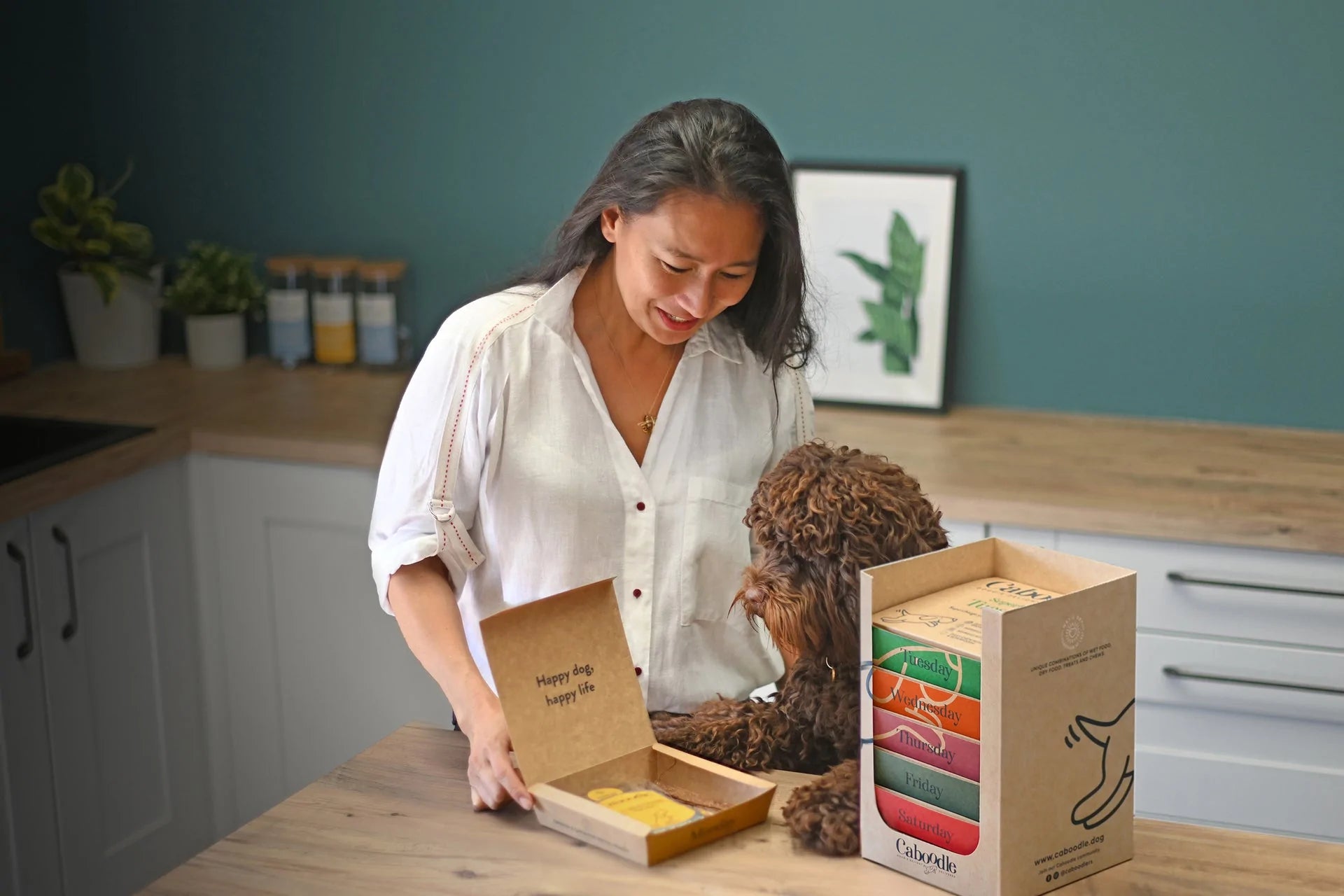 How to introduce new dog food for small dogs
If you've been feeding your dog mainstream tinned food for a while and you're wondering how to switch – let us help you. Sometimes the switch is easy and the old tins are a distant memory. For other small breed dogs switching food can be difficult and may impact a sensitive tummy. It might be better to split between the old food and new food and gradually introduce the full caboodle! So something like an 80/20 split in favour of the old food within the first few days. Then as the week goes on, increase our food more day by day.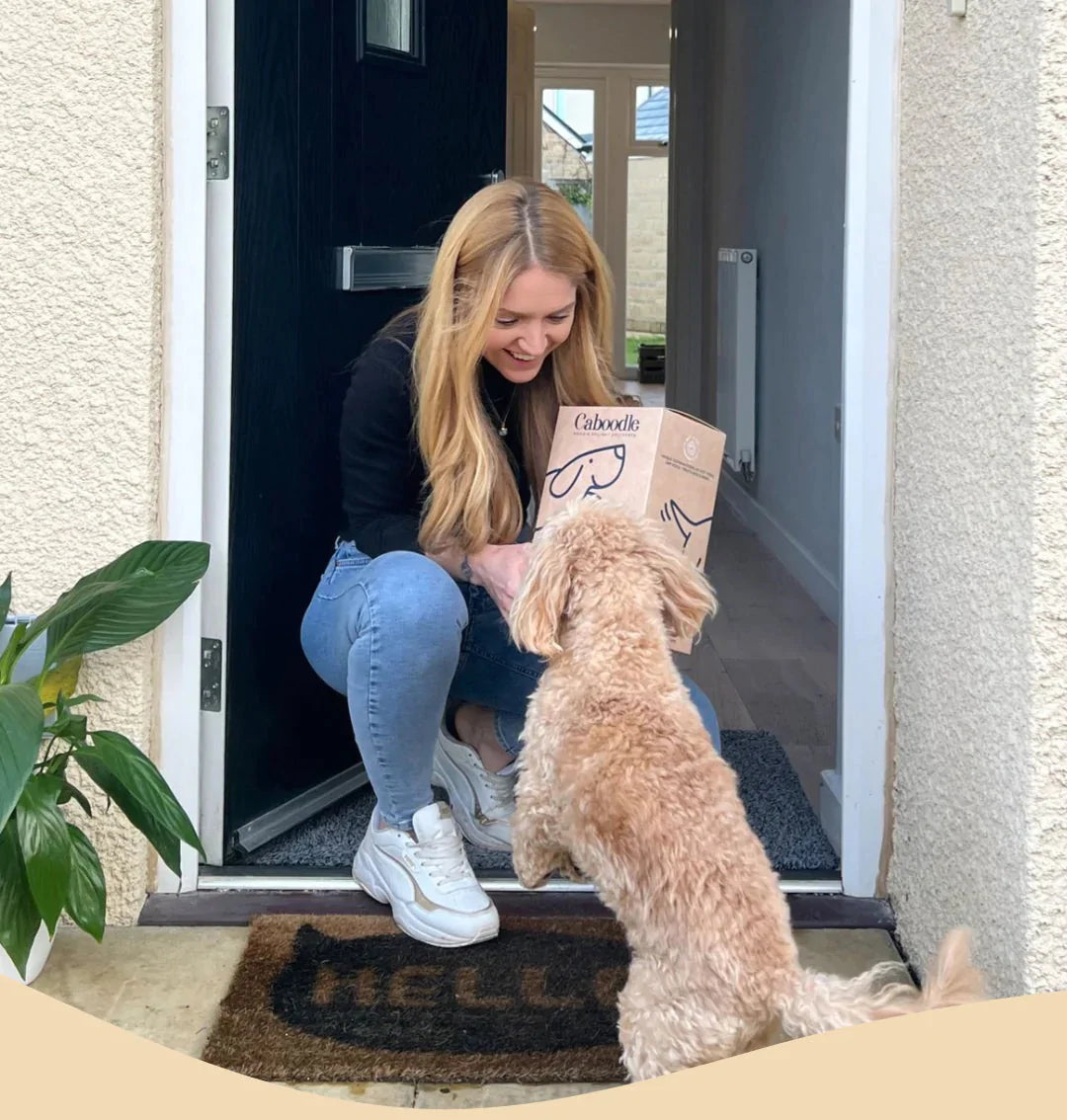 Not just dog food for small dogs, an environmental paw print too!
At Caboodle, it's more than just delicious dog food for small dogs – we are mindful of food miles too! The more miles we can save by ensuring suppliers are local in the UK or Europe, the better. We have also partnered with other sustainable advocators to ensure the packaging is 99% recyclable and compostable. So, you won't find we've made cost savings on unnecessary plastic filler packaging – you are using an eco-conscious business dedicated to the planet that we all share.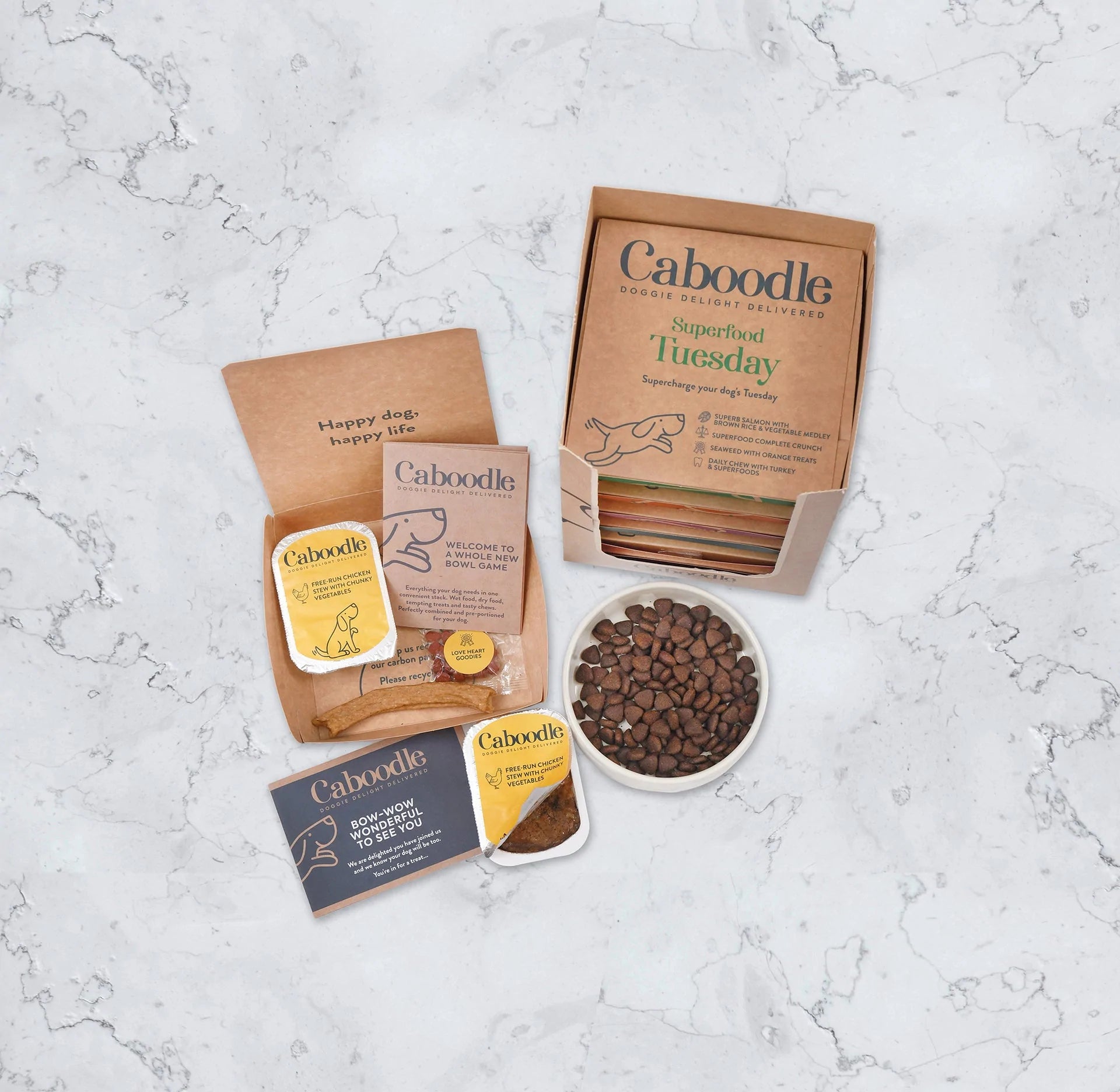 The advantages of our dog food for small dogs
As we have mentioned above, we supply healthy food in eco-friendly packaging. But we have also overcome the portion size dilemma that most dog owners go through. Maybe you're feeling a little worried that your dog appears hungry. Most people aren't trained Vets or nutritionists. A lot of dog owners are using guesswork to try and consistently achieve the perfect diet and portion size. It's not uncommon to use food as a way of bonding with your dog. At Caboodle, our dog food for small dogs contains the right diet and quantities accompanied by healthy treats. So, if you love your little pooch and you want to maintain that bond through food – pick Caboodle.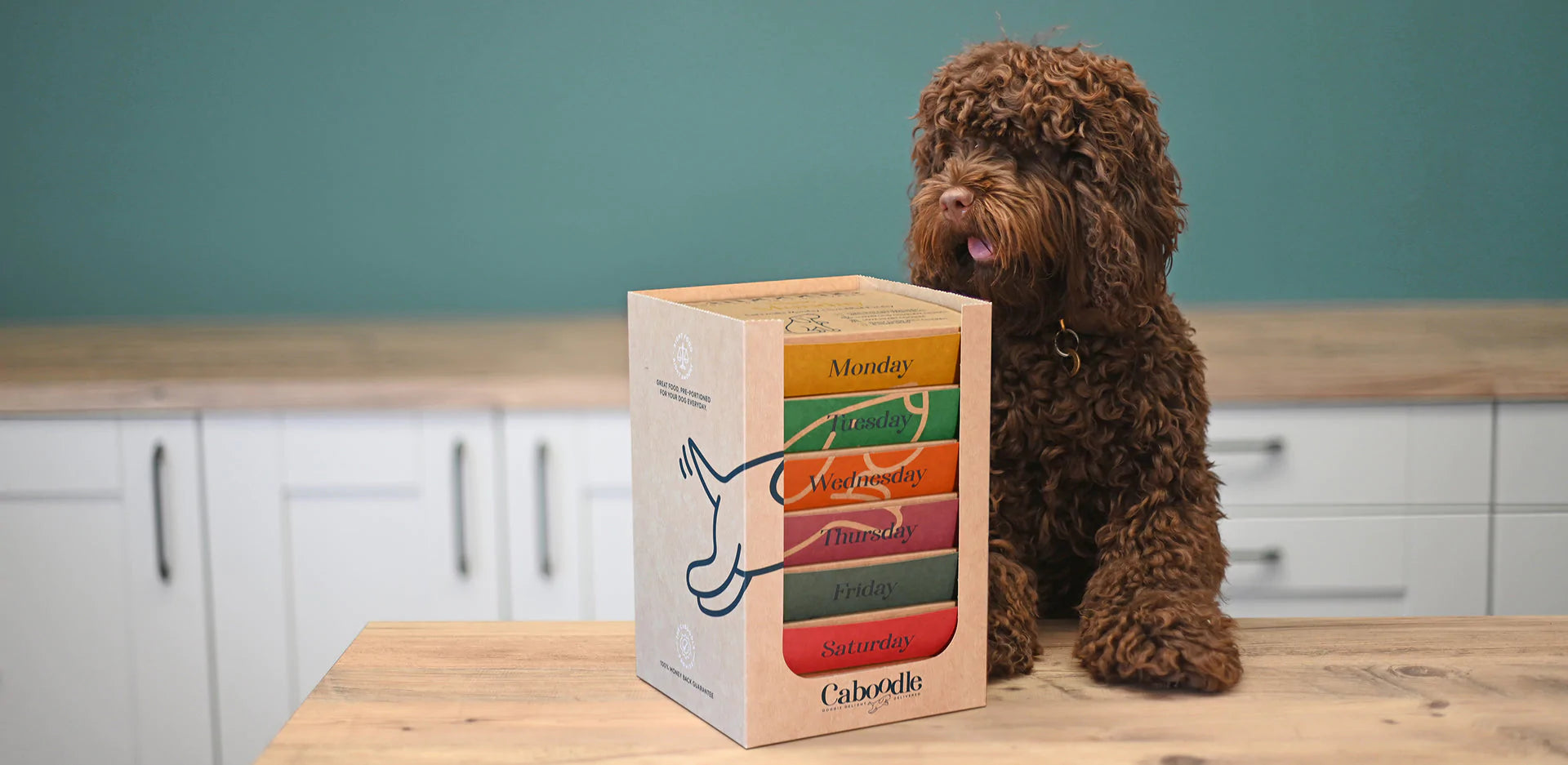 It's all about being portable and flexible!
After carrying out research into the market, we realise that dog owners need a simple life. Looking after your dog should be fun and enjoyable. If you're about to go away or you're regularly on the move with your best friend – our food is packaged to be portable. So, with variety, health, treats, portion sizes and packaging all catered for what about the subscription? Well, guess what, the subscription process is straightforward too. You tell us about your dog, we tell you what to order. Every item of food your dog eats in the week/month is planned and your dog is happy and healthy. If your circumstances change and you need to move, skip or cancel, all of these options are available on our website.
Get started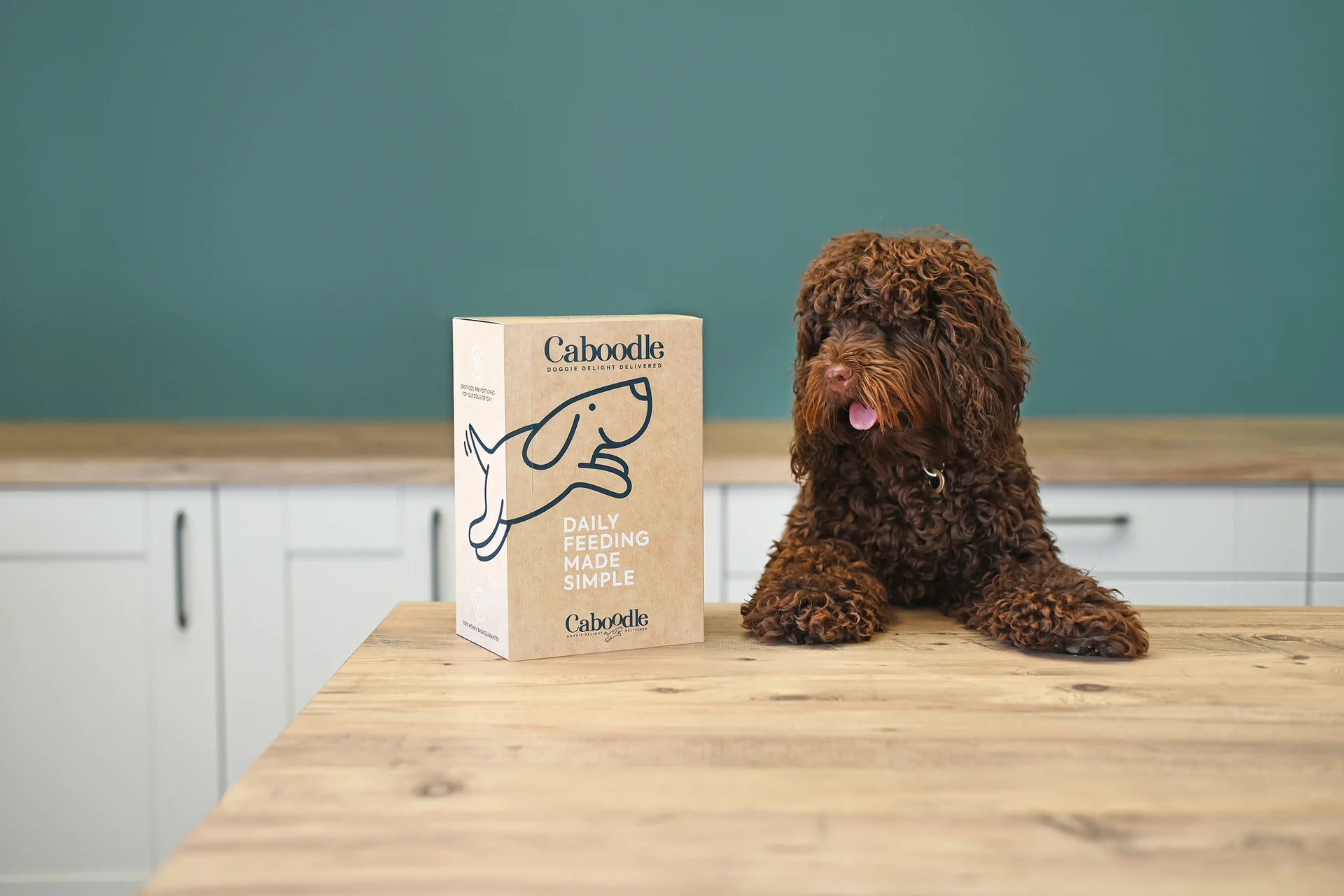 Subscribing to our dog food for small dogs…
So that your little pooch is served accurately, we recommend you click on the link below this paragraph and take our short quiz. The meal plans can either be set to weekly or monthly, whichever suits you best. Then once you are set up and the food arrives you can watch your lovely little one enjoys a nutritious diet. At Caboodle, we wish you well and are proud to serve other fellow dog lovers. Enjoy these precious moments with your favourite companion and make memories for life.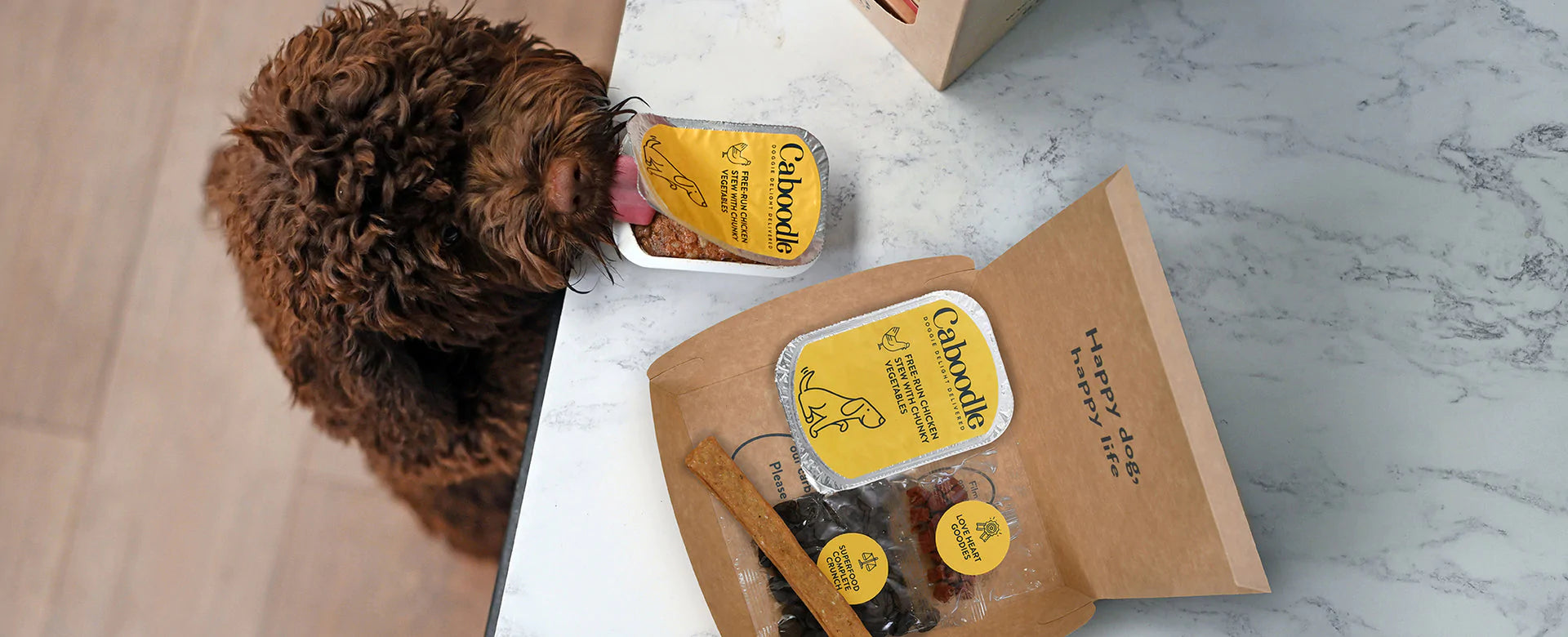 25% off your 1st delivery - use code "FIRSTBOX2"
Take our quiz & receive the full Caboodle!
Start now & enjoy 25% off!
Start today