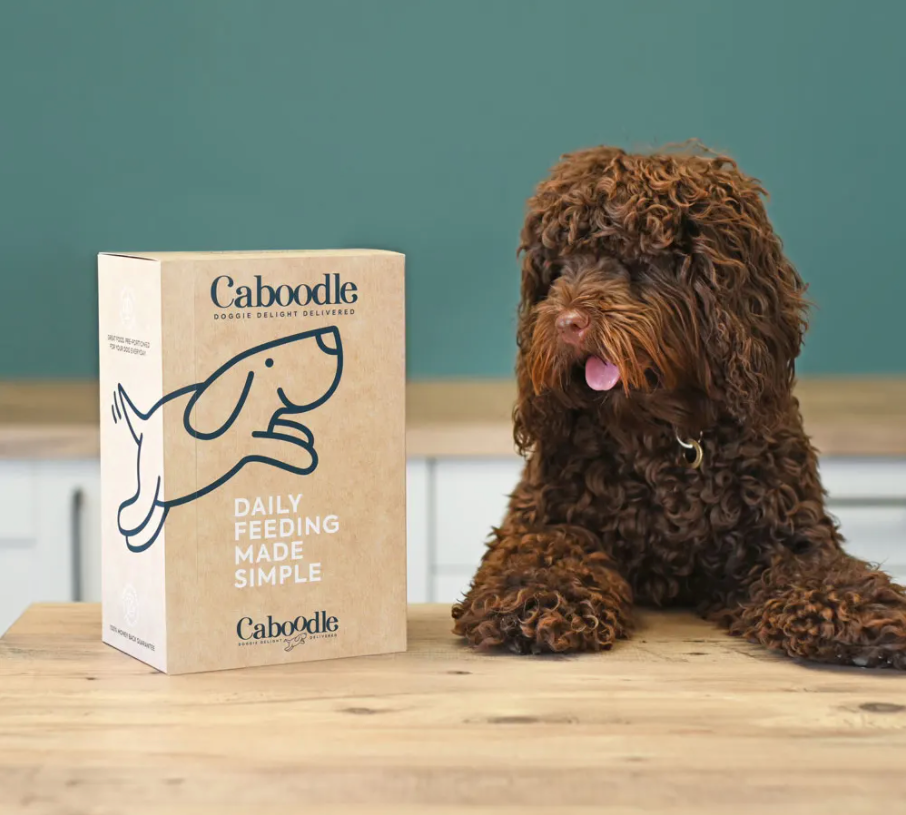 Help & FAQs
Hello... how can we help you?
We've captured our most common questions below but if you can't find what you're looking for, feel free to give us a call:
0800 888 6432
General FAQs
How does the subscription work?

With a Caboodle subscription, we've combined and tailored all your dog's food, treats and chews each day... we do the measuring, daily portioning, careful menu curation and delivery so you don't have to.

It's one less thing to think about... our aim is to keep you and your dog delighted every day!

Here's how it works:

Step 1. Fill out the short questionnaire (click GET STARTED) tell us about your dog, so we can find the ideal Caboodle Stack for you (1 Stack is 7 days of complete food portioned for your pooch).

Step 2. Choose 1 of our 2 flexible plans - a one time purchase with no commitment or a subscription plan and checkout.

Step 3. You'll then receive your personalised Caboodle Stack(s) and if you subscribed your order billing will be sent out in line with your preferred delivery schedule. We always remind subscribers via email about upcoming billing three days before, and it's super easy to move, skip or cancel your subscription at any time in 'manage subscriptions'.

To manage your subsciption you'll need to activate and set-up an account, this can be done by clicking the icon (top right of the Homepage) or by clicking 'manage subsciptions' in your email correspondance.

Our plans are completely flexible but if you have any questions don't hesitate to give us a call: 0800 888 6432 or email: hello@caboodle.dog
Why do you have weight brackets on your products?

We've found customers find it helpful to have the weight brackets captured on our Caboodle sizes to allow them to better navigate between our options. Customers are able to move up or downsize at any point but nearly everyone has been happy with our initial size recommendation - plus, there are more sizes coming soon!

We have customers with dogs at the lower and higher range of all our stacks who are really happy with our portion sizes. Activity level, body condition, metabolism and whether a dog is neutered or not can all have a significant impact on the calories each dog needs.

Admittedly every dog is different and we're not going to get it spot on each time, so we have a programme in place to check-in with everyone post purchase to make sure it's all going well.

If you have any questions don't hesitate to give us a call: 0800 888 6432 or email: hello@caboodle.dog
What ingredients are in Caboodle?

All food products in your Caboodle stack are made in the UK and EU - you can find full details HERE
Can I have a free Caboodle sample?

We don't provide free samples of Caboodle... BUT we do have code: FIRSTBOX25* this gives you 25% off your first stack. Simply click GET STARTED, tell us about your dog and we'll find the ideal Caboodle for you. Choose One time or a 7 day plan, enter the promo code at checkout and we'll send you and your furry pal your very own Caboodle Starter Stack to try (with FREE delivery). *Offer limited to one purchase per household.
How much does Caboodle cost?

Caboodle is the first dog food subscription with everything in one place: wet food, dry food, treats and chews - we've got it all covered. The cost depends on the size of your dog and a number of other questions (in our short questionnaire). Tailored 7 day Caboodle stacks start from as little as £22.40 (£3.20 a day) and this includes everything you need for a whole week - it's not just food, it's the whole Caboodle!
How will Caboodle save me time and money?

We're committed to feeding dogs delicious and nutritious food in the right amount. This means we've spent time finding the best nutrient rich ingredients to go into our daily boxes with proven functional ingredients like prebiotics, glucosamine and chondroitin. We're also doing the weighing and portioning for your dog, so you don't have to.

In addition, we're the first brand to bring everything together in one place, so wet food, dry food, treats and chews in every daily box.

Caboodle is your one-stop-stack for everything and when you add up what you're currently feeding on a daily basis you'll find we're similar, if not better value - check out our Pricing page.
How should I introduce Caboodle?

If your dog is healthy with no allergies or intolerances and used to a mix of wet and dry food then you could start using Caboodle straight away.

However for more sensitive tummies, we would recommend that you phase out your existing food and gradually increase the amount of Caboodle over a period of 5-7 days.
How should I feed Caboodle?

It's your choice! You know your dog best and we've designed Caboodle in a way that gives owners options to feed wet or dry in the morning or evening, with treats throughout the day and a chew a night.

If you're unsure please don't hesitate to get in touch with us via: hello@caboodle.dog or 0800 888 6432
Can I use Caboodle if my dog has allergies?

Please refer to our product composition details, if you're still unsure please don't hesitate to get in touch with us via email or phone at: hello@caboodle.dog or 0800 888 6432
What if my dog doesn't like the food?

If there is anything wrong with your order or if you or your dog are not completely happy, we'll offer you our 100% Caboodle money back guarantee - with no questions, no quibble, no hassle! We'll be sorry to see you go and we'll simply refund you your full payment back via the payment method you used.
How do I store my Caboodle stack?

Simply find a spot in your kitchen for your Caboodle stack - all our food is packed in a way which means it can be stored safely at room temperature.

No more overnight defrosting (hurray!).

Once opened if you prefer to split the wet food portions you should put the remainder in the fridge and use within 24 hours. Hate open wet food in your fridge? Please get in touch and we can try to find a solution that suits you: hello@caboodle.dog or 0800 888 6432
Delivery and Returns FAQs
How long will delivery take?

Your stack will arrive within 48 hours of ordering. We will send you a confirmation email once you have placed your order to tell you this. Sometimes your stack arrives a little earlier than that but don't worry we will message you and let you know when we are on our way.
Do you deliver outside of the UK?

Not yet, we are only delivering in the UK at the moment.
What is your return policy?

We love to talk here at Caboodle so if there is anything wrong with your order or you aren't completely happy with your stack please get in touch with us within 14 days at: hello@caboodle.dog

Subscription

If you are a customer of Caboodle, you have the right to cancel your contract with us for any unused and unopened products within a period of fourteen (14) days starting the day after your receipt (or receipt by someone identified by you) of the products as reflected by the carrier's recorded date of successful delivery, provided they are in re-saleable condition. To exercise your right to cancel, you must inform us of your decision via email, telephone or post.

Contact details: hello@caboodle.dog

Telephone: 0800 888 6432

Address: First Floor Formal House, Tall Trees Estate, Bagendon, Cirencester, Gloucestershire, GL7 7JE

The refund will be made in the form of the original payment. You bear the cost of return shipping costs, unless the products are defective or damaged.

Your right to cancel does not affect your rights as a consumer in relation to any defective or incorrect products you may receive. If you receive a defective product or incorrect product, please contact us immediately at hello@caboodle.dog with your order number and a description of the problem. If your order arrives damaged when it gets to you, please get in touch and we'll be happy to arrange for a refund or replacement of the damaged items. On the rare occasion where a parcel goes missing, we will raise a claim with the courier. Please note claims will not be accepted if you have asked UPS/DPD to leave the parcel in a safe place including on your front porch, and in these cases the liability falls with the consumer or customer. During the pandemic, UPS & DPD and other couriers are taking precautions to minimise contact including contactless deliveries. You will receive a text notification for when your parcel will be delivered. If you won't be home please update your safe place or delivery date via the link provided in the text from UPS or DPD.

Non-returnable items

Any product that has been opened or is not in a re-saleable condition cannot be accepted as a return.

Refunds

We will notify you once we've received and inspected your return, and let you know if the refund was approved or not. If approved, you'll be automatically refunded on your original payment method. Please remember it can take some time for your bank or credit card company to process and post the refund too.
Can't find what you're looking for?
Hopefully we've covered everything above, but please drop us an email or call us if you have a question that is not answered here.