100% COMPLETE & BALANCED

Quality food made in the UK

Daily boxes in weekly stacks
Convenient for on-the-go
What's different about our dog food subscription?
Our dog food subscription provides the world's first daily menu box for dogs. Each daily box is pre portioned with just the right amount of food for your dog.
Daily dog food boxes delivered in weekly packages
Pre-measured & tailored to your dog's attributes
Daily variety of wet and dry food, treats and a chew
Convenient boxes, ideal for taking with you on the go
Everything your dog needs in one easy subscription.
Get started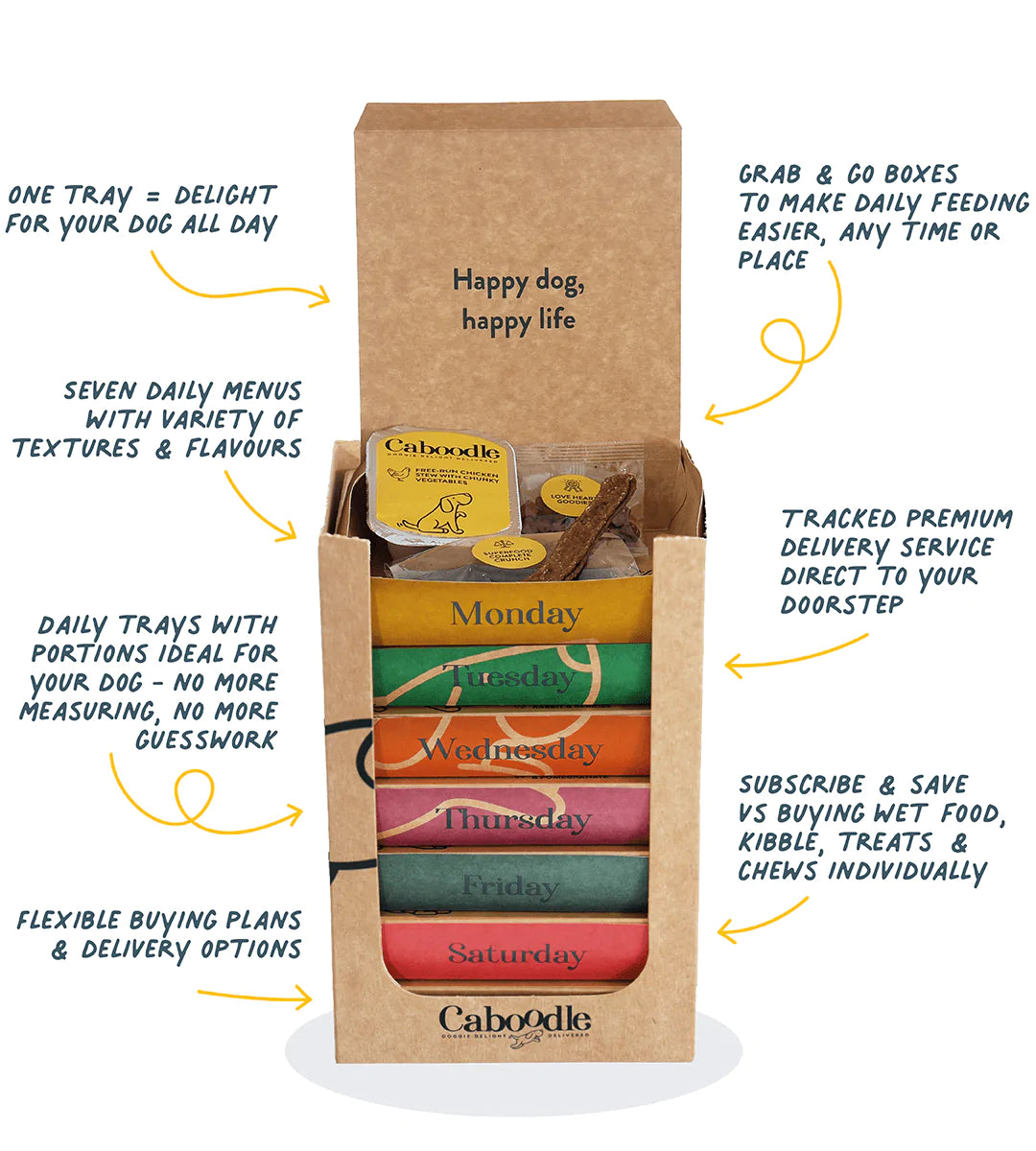 What's in Caboodle's dog food subscription boxes?
We've curated seven dog food subscription boxes to create a stack with different flavours and textures your dog will love. Each box contains a variety of tasty treats, including wet and dry food, treats and chews, delivered to your doorstep every week or month. Each daily box in the subscription contains a variety of the following:
Protein-packed wet food with delicious flavours

Crunchy dry food for healthy-teeth texture
Treats to reward & train
A healthy, natural dental chew
All our dog boxes are perfectly combined in compactable, recyclable packaging.
How our dog food subscription works

Discover
Discover the right dog food subscription by taking our quiz. It's quick, we promise.
Deliver
Choose a weekly or monthly dog food subscription. Cancel anytime!
Delight
Perfectly mesured, tasty dog food & treats that your four-legged friend will love.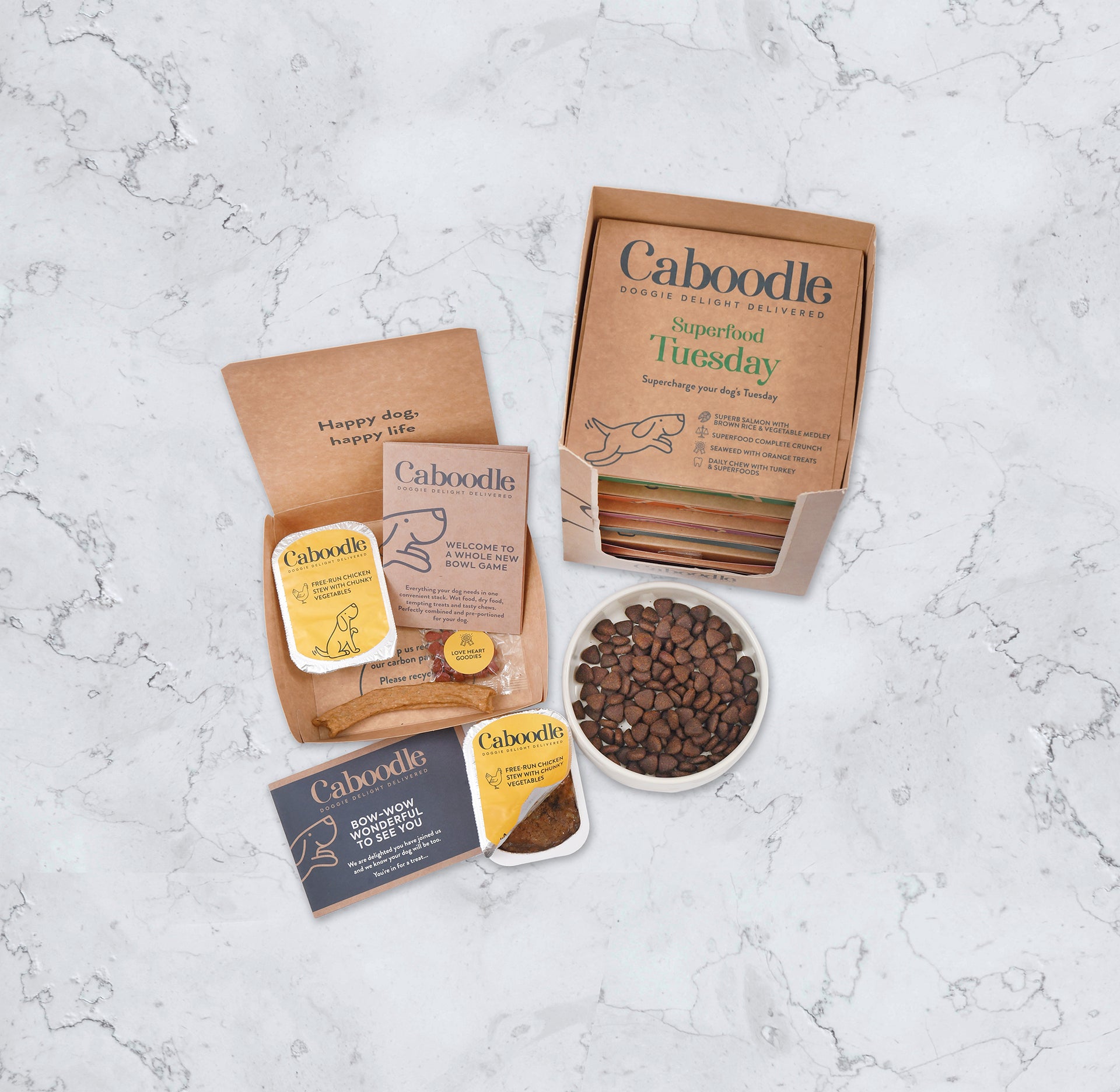 Our dog food subscription uses natural ingrediants
At Caboodle, we make our dog food subscription boxes from natural, recognisable ingredients. Our holistic range of wet and dry food has achieved incredible scores on 'All About Dog Food' (wet food attained 94% and dry food 88%. To us, it's about more than just subscription dog food. It's a whole new bowl game.
More on our food
How does our dog food subscription stack up?
Subscription dog food FAQ
How does our dog food subscription work?

With a Caboodle's dog food subscription, we've combined and tailored all your dog's food, treats and chews each day... we do the measuring, daily portioning, careful menu curation and delivery so you don't have to.

It's one less thing to think about... our aim is to keep you and your dog delighted every day!

Here's how it works:

Step 1. Fill out the short questionnaire (click BUILD YOUR STACK) tell us about your dog, so we can find the ideal Caboodle Stack for you (1 Stack is 7 days of complete food portioned for your pooch).

Step 2. Choose 1 of our 2 flexible subscription plans by adding a weekly (7 day) or 4 week (28 day) Caboodle plan to your basket and checkout.

Step 3. You'll then receive your personalised Caboodle Stack(s) every week or 4 weeks (our 28 day plan is one delivery with 4 stacks every 4 weeks) and the billing will be sent out in line with your preferred delivery schedule. We will always email you to remind you about upcoming billing three days before, and it's super easy to move, skip or cancel your subscription at any time in 'manage subscriptions'.

To manage your dog food subsciption you'll need to set-up an account, this can be done by clicking the dog's face (top right of the Homepage) or by clicking 'manage subsciptions' in your email correspondance.

Our two dog food subscription plans are completely flexible but if you have any questions don't hesitate to give us a call: 0800 888 6432 or email: hello@caboodle.dog
What ingredients are in our dog food subscription boxes?

All food products in your Caboodle stack are made in the UK and EU - you can find full details HERE
Can I get a free dog food subscription boxes?

We don't provide free samples of Caboodle... BUT we do have code: FIRSTBOX25* this gives you 25% off your first dog food subscription stack. Simply click GET STARTED, tell us about your dog and we'll find the ideal Caboodle for you. Choose One time or 7 day plan, enter the promo code at checkout and we'll send you and your furry pal your very own Caboodle Starter Stack to try (with FREE delivery). *Offer limited to one purchase per household.
How much does a dog food subscription cost?

Dog food subscriptions vary in cost but Caboodle is the first dog food subscription with everything in one place: wet food, dry food, treats and chews - we've got it all covered. The cost depends on the size of your dog and a number of other questions (in our short questionnaire). Tailored 7 day Caboodle stacks start from as little as £22.40 (£3.20 a day) and this includes everything you need for a whole week - it's not just food, it's the whole Caboodle!
Aren't dog food subscriptions expensive?

We're committed to feeding dogs delicious and nutritious food in the right amount. This means we've spent time finding the best nutrient rich ingredients to go into our daily boxes with proven functional ingredients like prebiotics, glucosamine and chondroitin. We're also doing the measuring and portioning for your dog, so you don't have to.

In addition, we're the first brand to bring everything together in one place, so wet food, dry food, treats and chews in every daily box.

Caboodle is your one-stop-stack for everything and when you add up what you're currently feeding on a daily basis you'll find we're similar, if not better value - check out our Pricing page.
How long will it take to receive my dog food subscription?

Your stack will arrive within 48 hours of ordering. We will send you a confirmation email once you have placed your order to tell you this. Sometimes your stack arrives a little earlier than that but don't worry we will message you and let you know when we are on our way.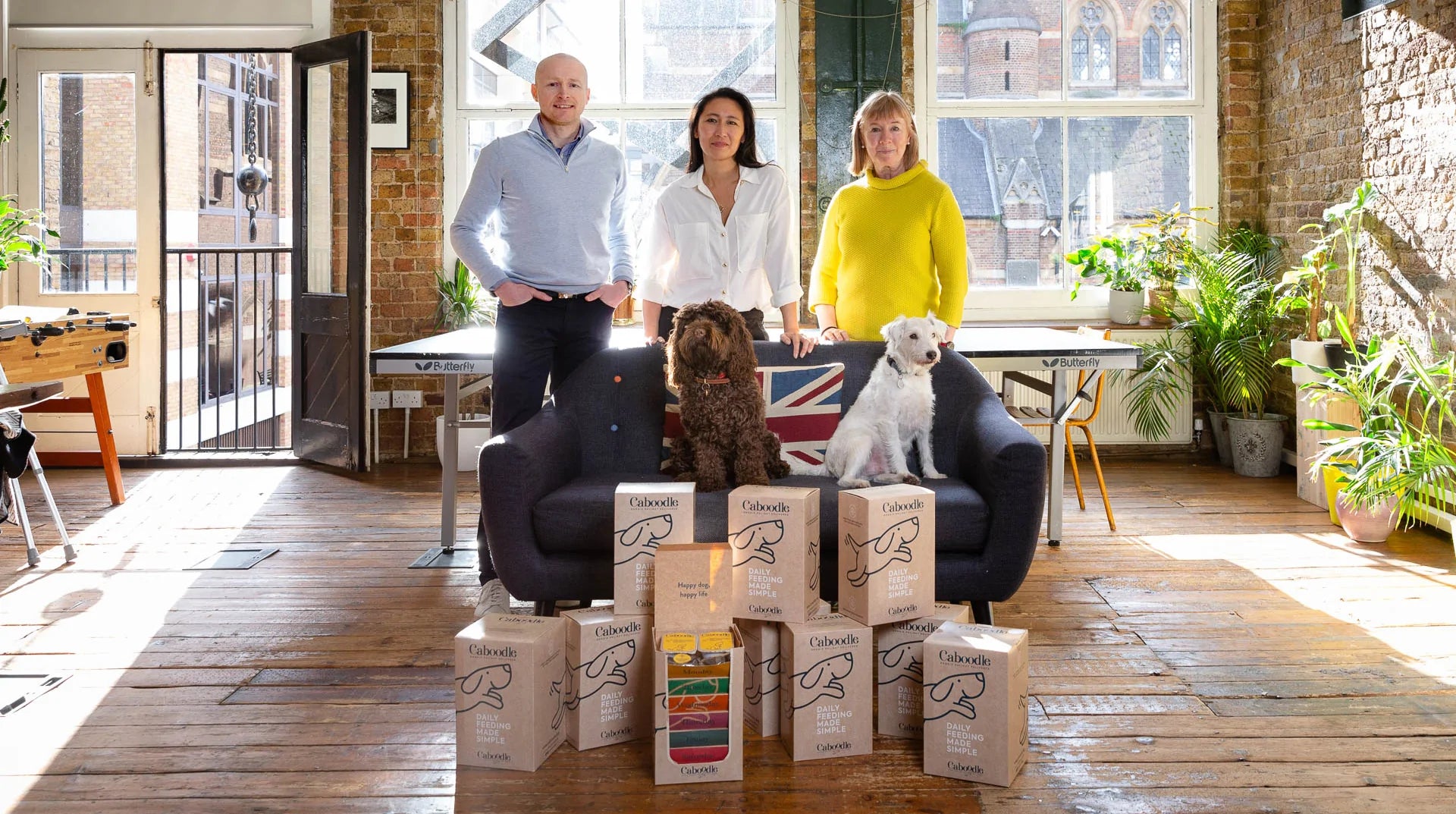 Our environmental pawprint
At Caboodle we know that happy dogs and a happy planet go hand in hand, so we're doing everything we can to minimise our impact on the earth. All our dog food subscription boxes are made in the UK and Europe and our boxes are hand-assembled and carefully packed at our Cotswolds HQ. Our packaging is 99% recyclable. 
We use NatureFlex compostable film, biodegradable card and labels. In fact, even the ink we use on our boxes is made from vegetables. We are working hard to eradicate that bothersome 1% too (it's the foil on our wet food that keeps it fresh).
Read more