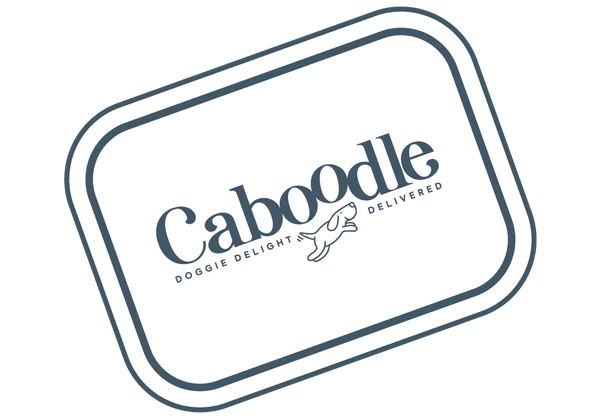 Natural Dog food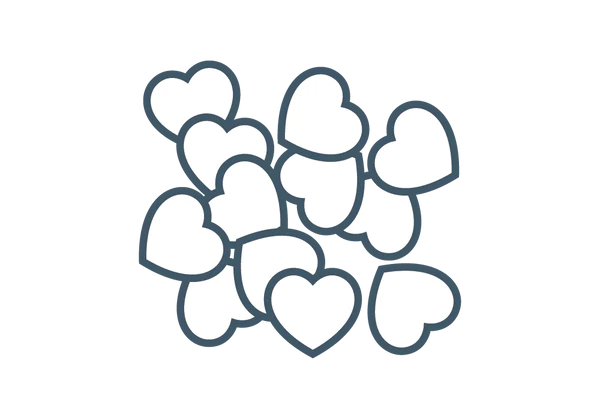 Dog Treats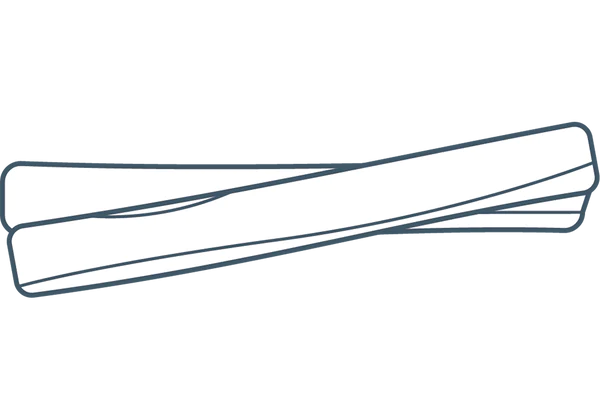 Dog Chews
Natural Dry food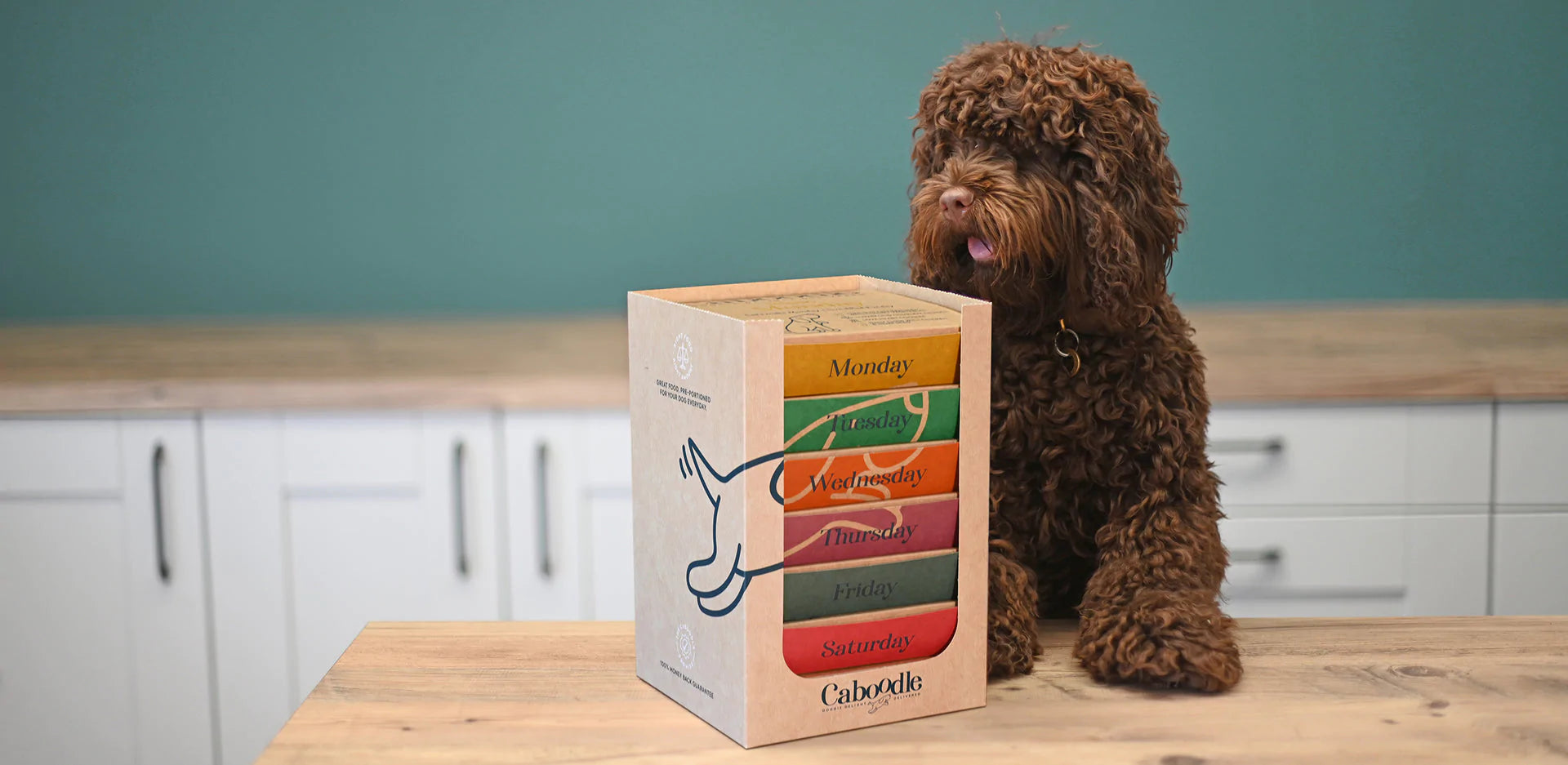 Thinking about natural dog food?
Our natural dog food has all of the ingredient's that your dog needs, plus some extras that will make your pet happy and healthy. We make sure we include meats, vegetables other natural foods that are great for your pet but leave out any unnecessary chemicals or additives that might not be good for them. With Caboodle, your dog gets everything they need and nothing they don't. Plus, there's no more searching around town trying to find something that works! At Caboodle, we ship right to your door so you can get back to enjoying being best friends with your dog.
Get started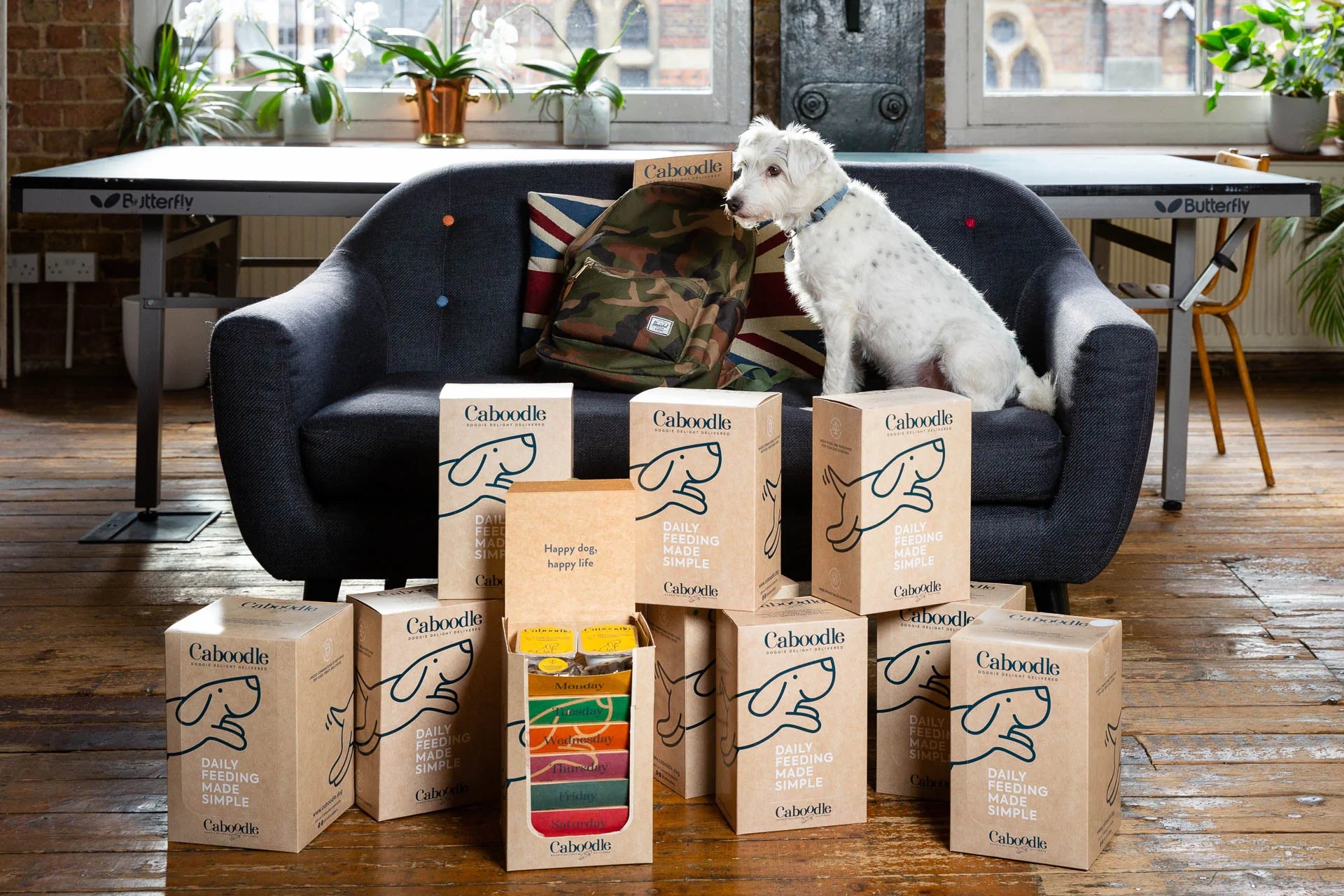 Wondering which company to pick for natural dog food?
When researching different companies for natural dog food, not only should you consider the diet but other aspects of the business. It is the subtle differences that separate the best suppliers. Such as packaging, carbon footprint, and company ethics. For example, look at whether the packaging is made from recycled materials. If you are going to go for natural dog food, you could also help our natural environment too. At Caboodle our whole business promotes healthy eating and protecting the planet, with our natural dog food.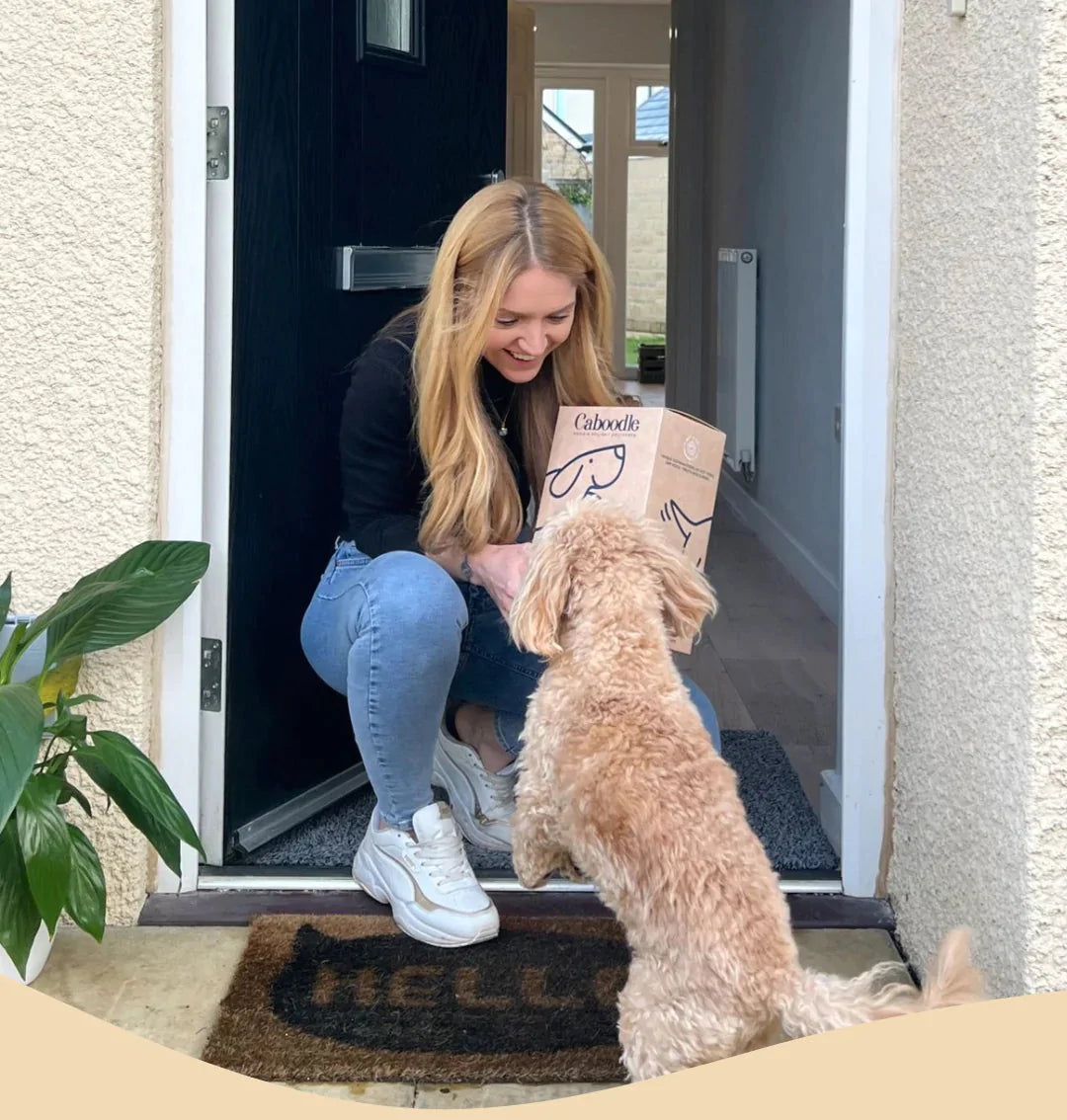 Pick Caboodle for natural dog food
You love your dog, and we know that. So, you want to do everything you can to make sure they're happy & healthy - and that means feeding them the best food possible. Caboodle provides top-quality dog food that's made with natural ingredients. Our products come from reputable sources. At Caboodle, we know that taking care of your pet is important! That's why we're committed to providing you with a product you can feel good about feeding to your family member.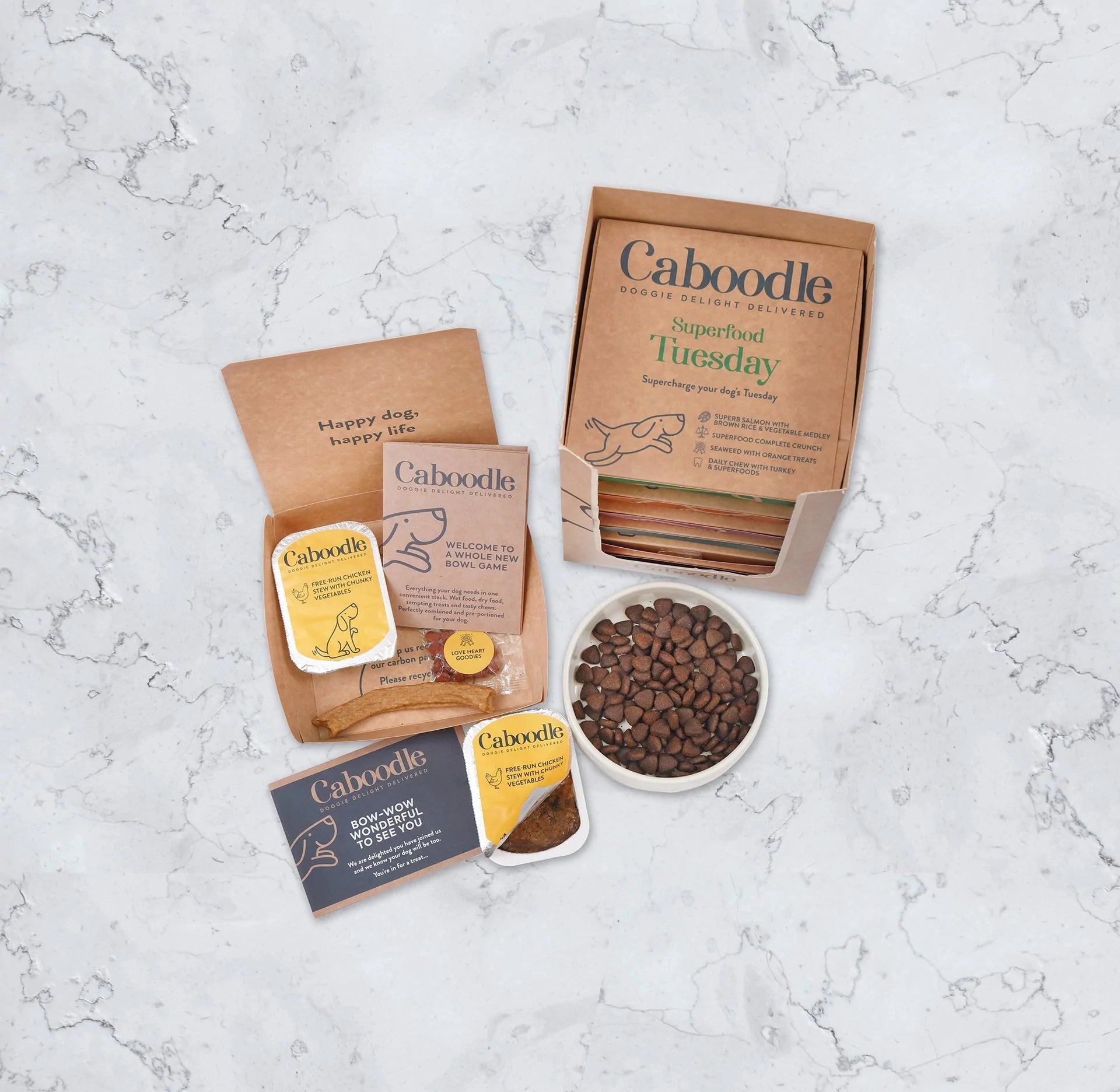 Looking for some general advice on natural dog food?
For dogs, a balanced diet means using a controlled amount of fibre and avoiding meat-only diets. You should also be aware that some foods are toxic for dogs. For example, chocolate, grapes, raisins, garlic, and onion. To achieve a natural and balanced diet, the meals should be planned so they are balanced throughout the week. Our natural dog food plans balance the amount of meat, fish, vegetables, and treats. The general advice given by professionals is to avoid food that is high in salt, potassium, and fat. Dairy should also be avoided.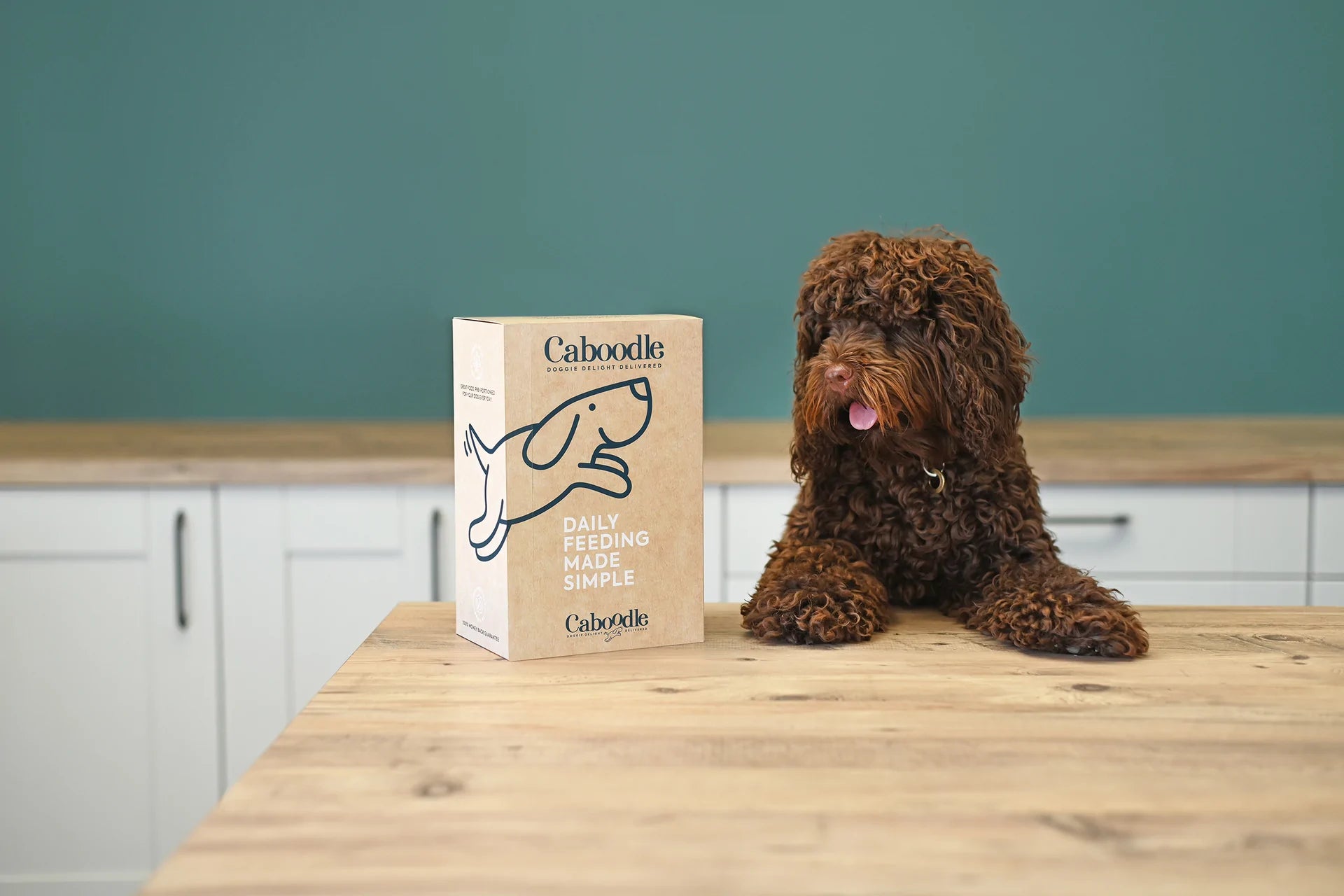 Long-term benefits of natural dog food
We all know that what you put into your body is reflected on the outside. A healthy diet leads to natural good health for people and this concept is the same for our pets. When you give them food that contains only naturally sourced ingredients, you know that you're contributing to their happiness and health. Most vets agree that dogs are better with natural dog food. Dogs should avoid any artificial colourings, flavourings, or additives. In some circumstances, unhealthy additives can cause illness and loss of condition over a period of time. After all, wouldn't you prefer to eat only high-quality food packed full of natural ingredients?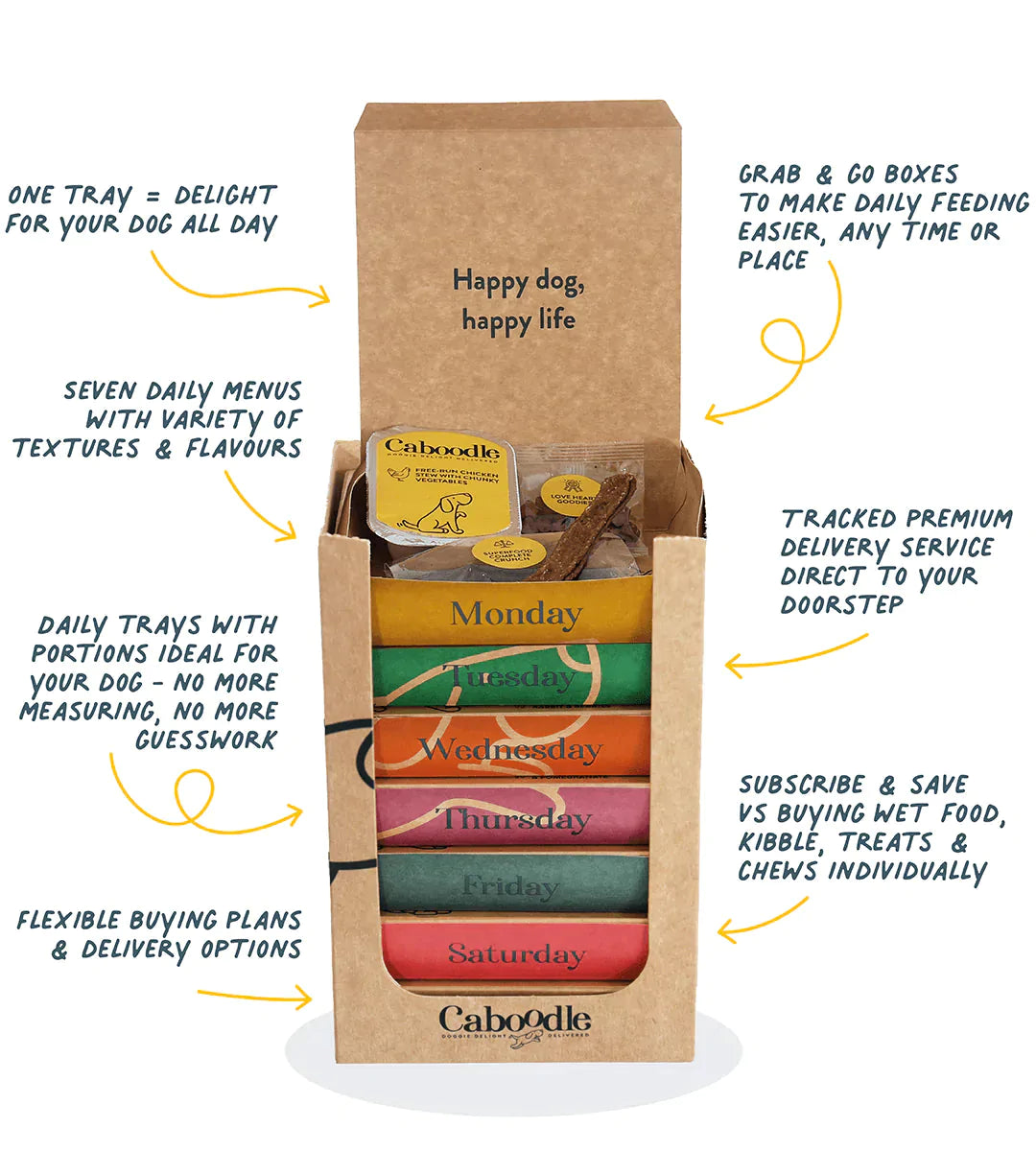 Weekly plans for natural dog food
We believe the most appreciated benefit of our natural dog food is that it provides weekly diets for your pets. If you're concerned about providing a well-balanced diet for your pooch, it can be a hassle to come up with meal plans throughout the week. Each daily meal plan is in its own recycled container and you receive this as a weekly package. The whole weekly diet is strategically planned to balance the diet over a weekly period. This means that your dog receives a balanced diet and the food also varies in texture between dry and wet. Additionally, we provide treats so that our meal plans become a one-stop shop for dog food.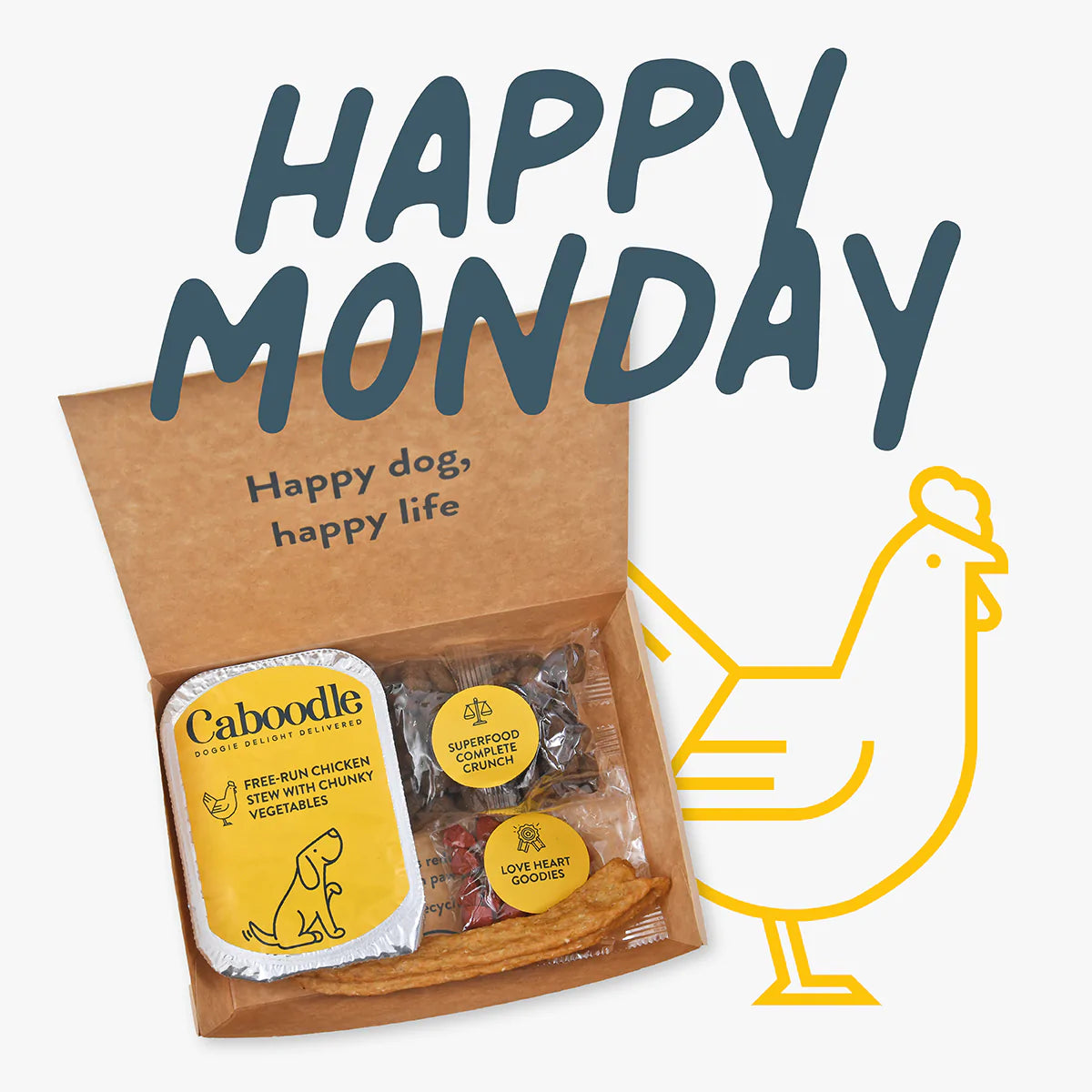 Here are examples of our delicious meal plans
On a Monday, your beautiful pet dog could be eating a lovely chicken stew and vegetables. This is accompanied by a healthy dental chew and heart treats. On a Tuesday, might be Salmon, brown rice, and seaweed treats. Then onto Wednesday, the week gets better with scrummy sausage and hotpot sweet potato. But the fun on a Wednesday doesn't end there with immune-boosting duck mini bones and rabbit/berries chew. Thursday can be game night with duck casserole, blueberries, and peas. Not to mention rabbit with apple and kale bites, topped off with a venison and pomegranate chew!
Moving onto the weekends…
The weekend can start on a Friday for your lovely dog, with our Big Fish Friday meal plan. Don't let them miss out on fish supper, superfood crunches, and a chicken & hemp seed chew. Saturday may entail steam-cooked turkey goulash, duck meaty morsels, and a turkey chew. Then Sunday it might have to be a roast with succulent beef with all the trimmings. In summary, our weekly natural dog food diets contain glucosamine & chondroitin for healthy joints, natural prebiotics for sensitive tummies, and omega 3 to improve brain function and immunity. Want to see this in full, click below.
Our Food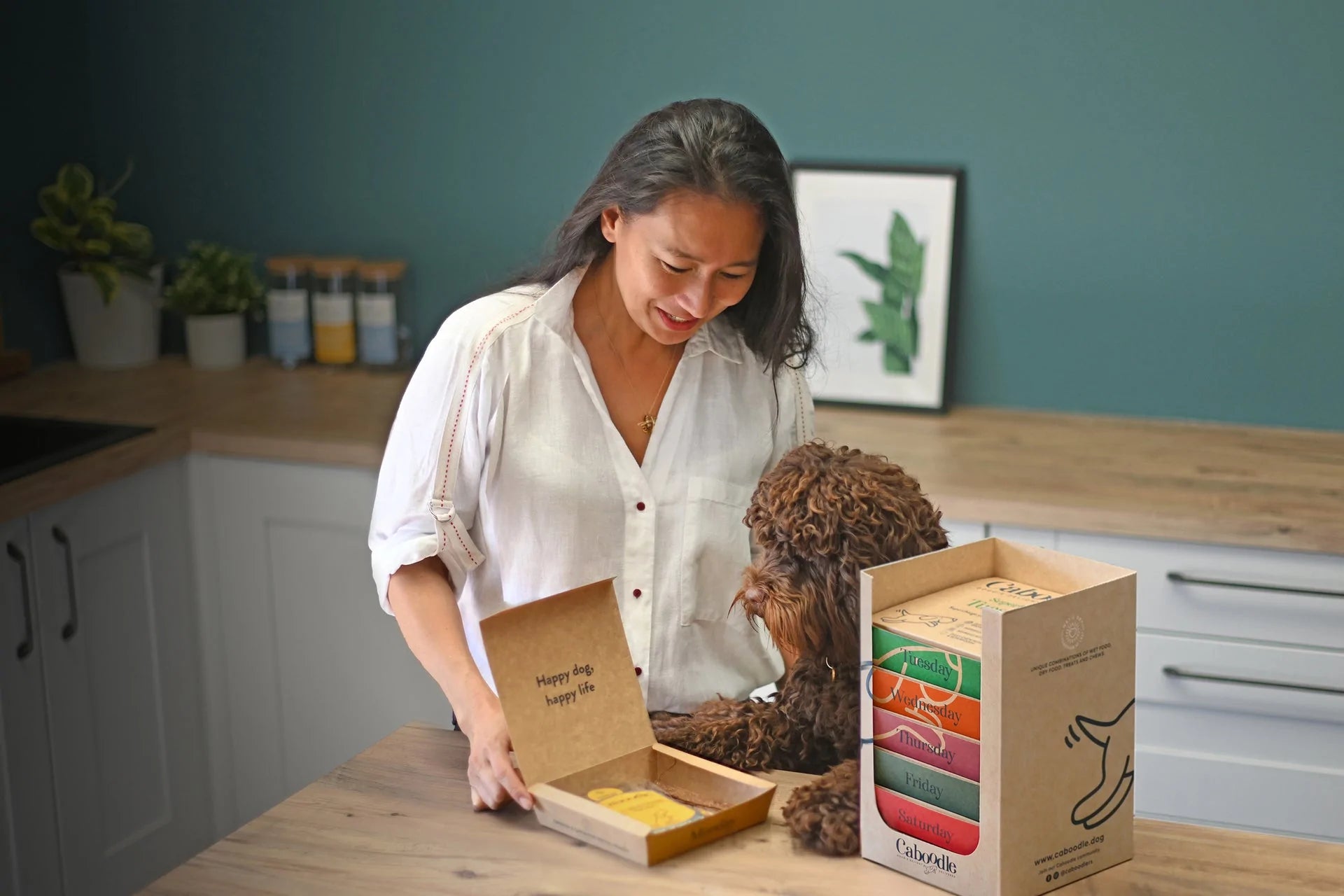 Portable natural dog food & flexible subscriptions
Our natural dog food boxes are portable so that they can travel wherever you need to go. So if you're going on holiday our food can be taken with you and your pet dog. Furthermore, our subscriptions provide options to choose between weekly or monthly. At Caboodle, we also have the added benefit that you can move, skip or cancel your subscription at any time - should your circumstances change. This can be done by going to 'manage subscriptions' in our menu.
Get started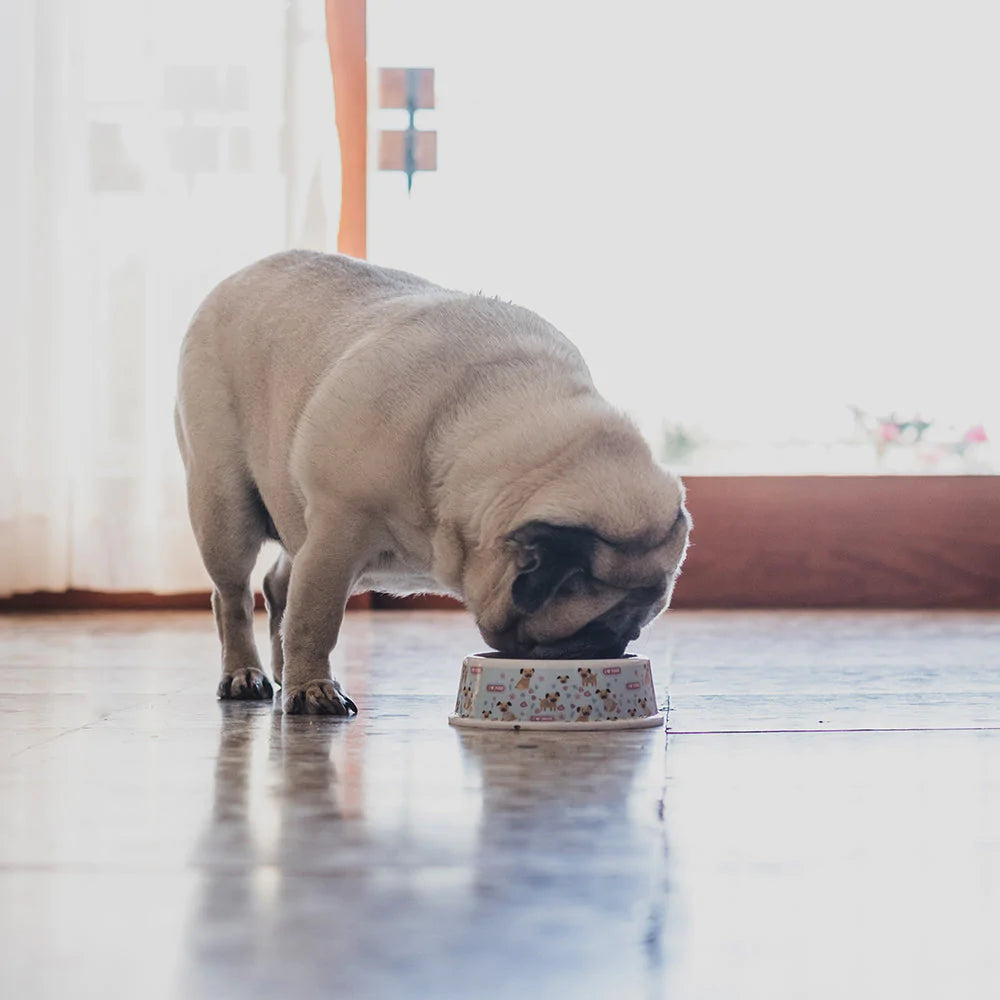 Give our natural dog food a go! Here's how to subscribe…
To ensure you get the best meal plan for your dog, we require you to take a short questionnaire. Please don't be put off by this. We do this because we care about dogs and natural dog food diets. Whilst you're quickly setting things up, you can decide whether you would rather go weekly or have a four-week plan. Then once you're all done, you follow the plan and enjoy the precious moments with your healthy companion. When it comes to subscriptions and billing, you are reminded via email 3 days in advance.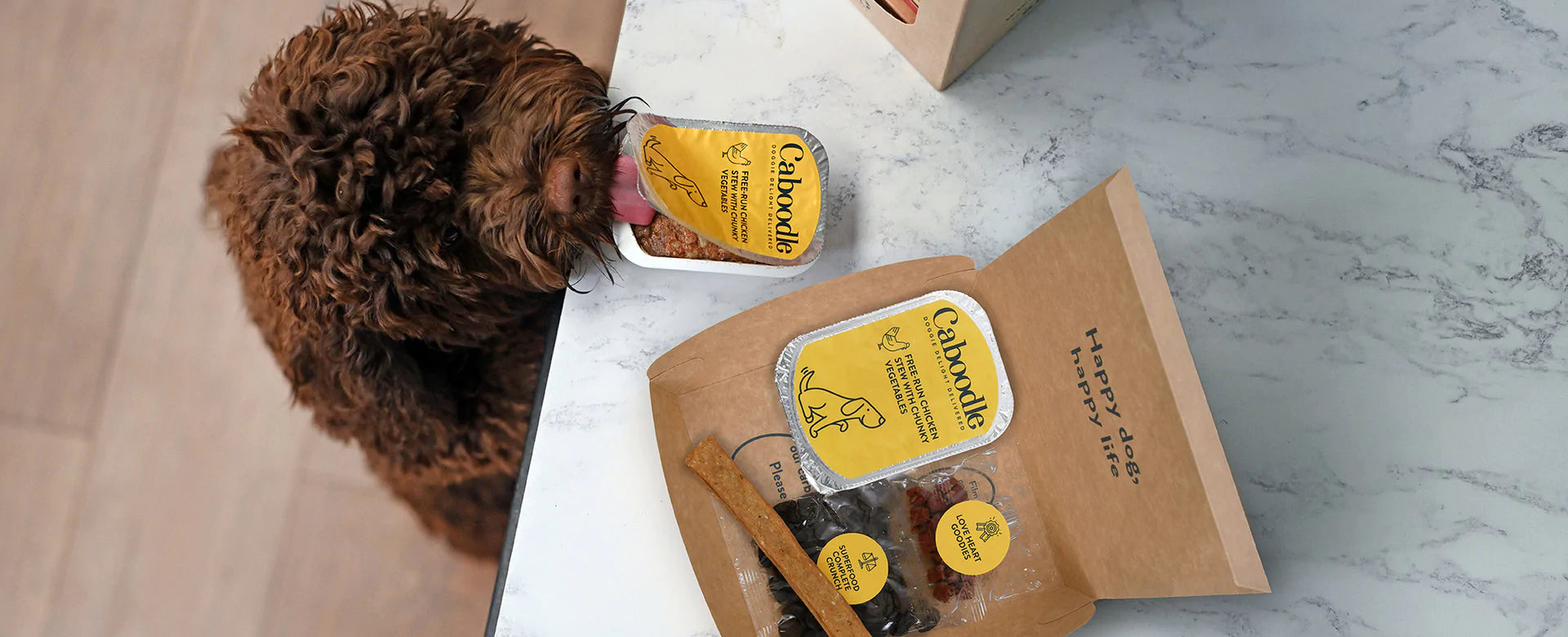 For 25% off your first delivery - use the code FIRSTBOX2
Just tell us about your lovely dog & we'll supply the perfect Caboodle for you.
Start now and receive 25% off!
Start now