Dog-Friendly London: 20 Dog-Friendly Shops You and Your Dog Will Love
Are you a dog lover looking for the paw-fect way to spend a day in London? Look no further! The capital city is home to a growing number of dog-friendly shops, where dogs and owners alike can shop 'til you drop.
Discover 20 of the Best Dog-Friendly shops in London
London is a city of fashion-forward individuals who appreciate the finer things in life, including their four-legged friends. Fortunately, there's no need to choose between your love for fashion and your furry friend when shopping in and around Central London. In this guide, we'll take you through 20 of London's most stylish and dog-friendly clothing shops. These shops and boutiques embrace both human and doggy visitors, ensuring that you and your four-legged friend can indulge in a day of shopping together. So, pop a lead on your pooch and let's explore London's fashion scene with your stylish sidekick.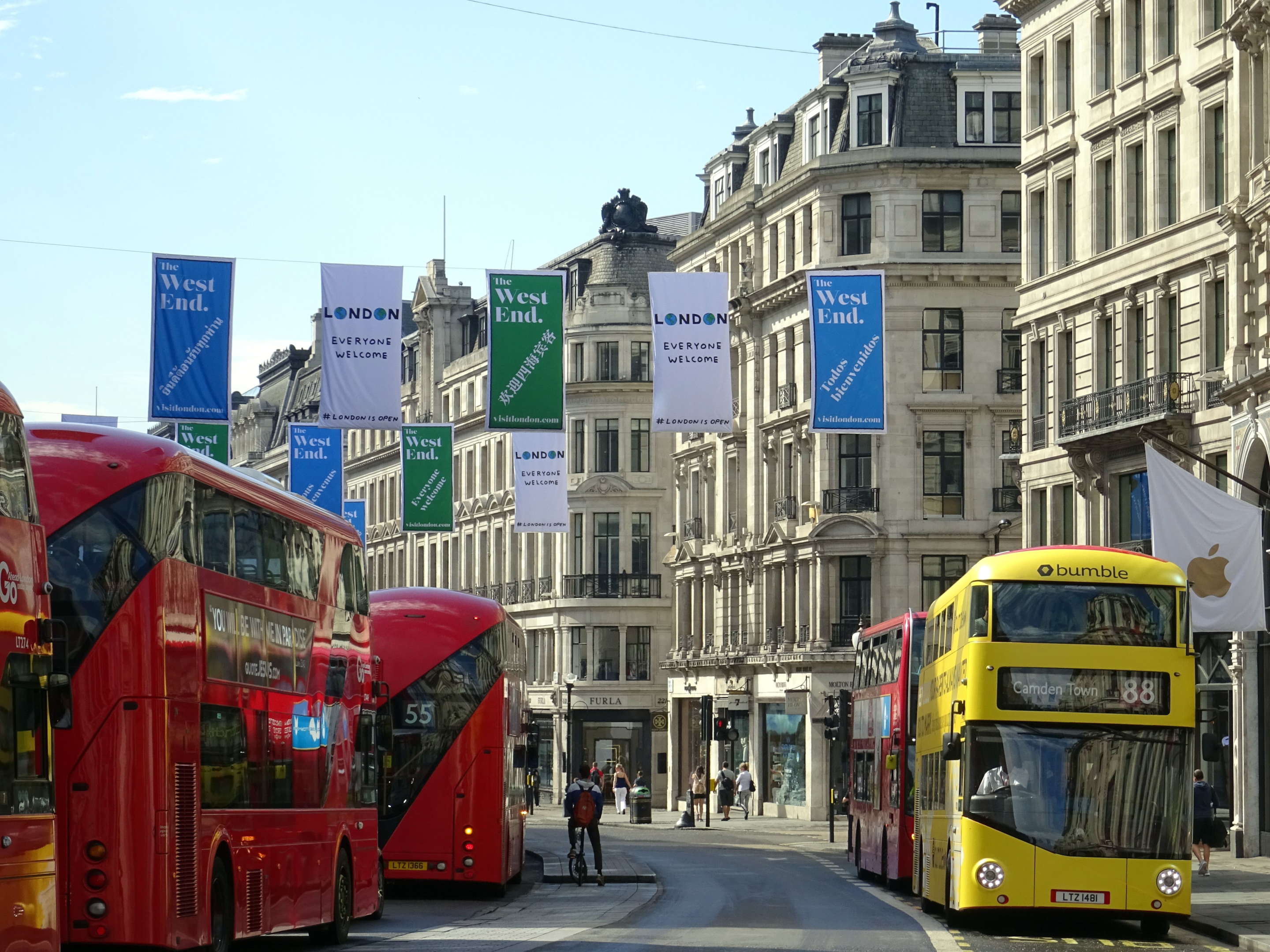 Liberty London is not just an iconic department store; it's also a haven for dog lovers. You can shop for high-end fashion while your dog enjoys the store's ambiance and occasional dog treat from the staff.
2. Harvey Nichols - Knightsbridge Harvey Nichols:
Harvey Nichols, a world-famous department store, is known to be dog-friendly. Explore luxury fashion brands with your dog in tow. 
3. Selfridges - Oxford Street Selfridges:
Selfridges, one of London's most famous department stores, welcomes carried dogs so is perfect destination for small dogs. Enjoy shopping for designer clothing and accessories while your furry friend accompanies you. 
4. Anthropologie - Various Locations Anthropologie:
Anthropologie's London stores are known for their dog-friendly atmosphere so it's the perfect place to head with your dog to browse the latest trends.
5. Urban Outfitters - Covent Garden + Various Locations Urban Outfitters:
Urban Outfitters is another dog-friendly clothing store with multiple locations across London. Explore the latest fashion trends with your furry friend in tow.
6. The Kooples - King's Road + Various Locations The Kooples:
The Kooples is a dog-friendly clothing brand with stores across London. You and your pup can shop for stylish outfits together.
7. AllSaints - Covent Garden + Various Locations AllSaints:
AllSaints welcomes dogs in their stores. Shop for edgy and chic clothing while your four-legged friend accompanies you on your fashion journey.
8. Ted Baker - Various Locations Ted Baker:
Ted Baker's London stores often allow dogs inside. Enjoy shopping for their unique designs with your furry friend.
9. COS - Covent Garden + Various Locations COS:
COS, the contemporary fashion brand, is known to be dog-friendly. Browse their minimalist designs with your dog by your side.
10. Zadig & Voltaire - Various Locations Zadig & Voltaire:
Zadig & Voltaire is a dog-friendly fashion boutique in London. Explore their stylish collections with your pooch.
11. Anthology - Various Locations Anthology:
Anthology offers a curated selection of contemporary fashion and accessories. Your dog is welcome to join you while you browse through their stylish collections.
12. Mungo & Maud - Belgravia Mungo & Maud:
Mungo & Maud is a luxury pet boutique that welcomes well-behaved dogs. Shop for designer pet accessories and apparel while your dog explores the chic store.
Barkers of Kensington is a high-end pet store that encourages you to bring your dog while shopping for gourmet dog treats and stylish pet wear.
14. Fortnum & Mason - Piccadilly Fortnum & Mason:
Fortnum & Mason, renowned for its high-quality food and goods, welcomes dogs. Dogs must be carried or kept on a lead. Explore their wonderful food hall or treat yourself to one of their world famous hampers while your pooch enjoys the luxurious ambiance.
15. John Lewis - Oxford Street JOHN LEWIS:
John Lewis, another iconic department store, welcomes all dogs. Shop for a wide range of clothing and homeware brands with your dog by your side.
16. Hamleys - Regent Street Hamleys:
While Hamleys is primarily a toy store, it's a fun place to visit with your dog. It's a great place for a family day out, enjoy the playful atmosphere and the stores various floor and sections.
17. Uniqlo - Various Locations Uniqlo:
Uniqlo is a dog-friendly clothing store with multiple locations in London. Discover affordable and stylish clothing options with your pooch.
18. Brandy Melville - Various Locations Brandy Melville:
Brandy Melville, a trendy fashion brand, often welcomes dogs. Shop for comfortable and stylish clothing while your furry friend accompanies you.
19. & Other Stories - King's road + Various Locations & Other Stories:
& Other Stories is known to be dog-friendly in its London stores. Explore their unique and diverse fashion offerings while your dog enjoys the visit.
20. Zara - Various Locations Zara:
Zara, a popular clothing brand, is often dog-friendly. Browse through their fashionable collections while your dog accompanies you on your shopping spree.
Preparing for your shopping trip
1. Do Your Homework
Before heading out, it's essential to do some research. Not all shops in London are dog-friendly, and each establishment may have its own rules and restrictions. Check online or call ahead to confirm that dogs are indeed welcome, and inquire about any specific guidelines, such as lead requirements or size restrictions. This step ensures you won't be disappointed when you arrive.
2. Dress to Impress
Just as you'd dress appropriately for an outing, make sure your four-legged friend is dressed for success too. Depending on the weather, your dog might need a comfortable harness, doggy boots for pavement protection, or even a stylish bandana to get into the shopping spirit. Plus, don't forget to carry poo bags – responsible pet ownership is always in fashion.
3. Bring Essentials
Pack a doggy bag with essentials such as water, a travel bowl, treats, and your dog's favourite toy. Staying hydrated and having a comforting item from home can help your dog feel at ease in new surroundings, especially when encountering unfamiliar sights and sounds.
4. Practice Good Behaviour
Well-behaved dogs are always welcome. Ensure your furry friend is well-trained, responds to basic commands, and is socialised to interact with other dogs and people. This will not only make your shopping experience enjoyable but also help maintain a positive image of dogs in public spaces.
5. Time Your Visit
Plan your visit during non-peak hours, if possible. This way, you and your dog will have more space to explore, and it'll be easier to manage any interactions with other shoppers and their pets. Weekday mornings are often quieter, offering a relaxed shopping atmosphere.
6. Respect Shop Policies
Always adhere to the shop's rules and policies. If a store requests that dogs remain on a lead or only enter specific areas, follow these guidelines without exception. Never leave dogs unattended. Being respectful will ensure you're welcome back in the future and that other visitors have a positive experience too.
7. Ask for Recommendations
Engage with shop staff and fellow dog lovers to discover hidden gems. They might suggest unique dog-friendly shops or products that cater to your pup's needs. Engaging with the local dog-loving community can lead to fantastic discoveries and memorable experiences.
8. Support Local Businesses
Show your support for dog-friendly shops by making purchases. Whether it's a special treat for your dog or a quirky souvenir, your patronage helps these businesses thrive and encourages more establishments to welcome furry customers.
9. Capture the Moment
Don't forget your camera or smartphone! Dog-friendly shops in London often boast charming décor and unique displays. Capture the moment and share your adventures on social media using popular hashtags like #DogFriendlyLondon or #PawsomeShopping.
10. Safety First
Finally, keep your dog's safety in mind at all times. Be cautious around busy streets, and ensure your pet is secure during car journeys. Safety is paramount for a successful day out.
Now that you're equipped with these top tips, embark on your dog-friendly shopping adventure in London with confidence. Remember to cherish the moments, explore new places, and savor the joy of spending quality time with your dog. London is a city full of surprises, and there's no better way to experience it than with your trusty sidekick by your side. Happy shopping! 🐾
REMEMBER: Guide dogs are welcome in all shops. It is against the law to refuse access to a guide dog.
With Caboodle you have delicious and nutritious daily meal boxes containing wet food, dry food, treats and a chew. Our daily boxes are already measured out for your pooch based on their individual needs and delivered straight to your door.
You can try Caboodle now and save 30% with the code: FIRSTBOX30.