Healthy dog food

Delicious Mixed diet

Organised packs

treats and chews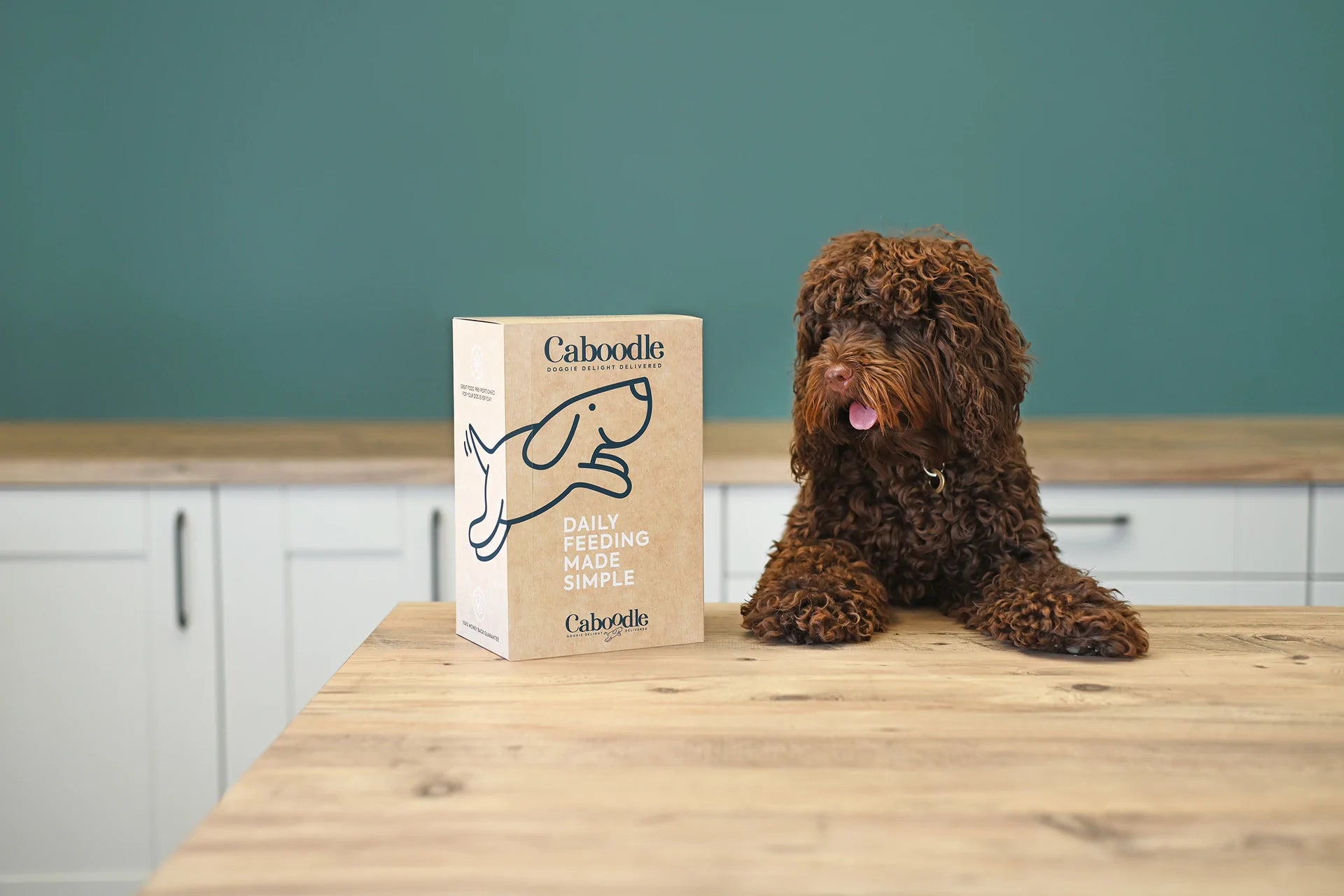 Looking for a market-leading online store for healthy dog food?
Our healthy dog food is available on subscription and includes a full meal plan including healthy snacks. As a result, you are not looking around for separate wet or dry food, or elsewhere for treats. We offer you the full caboodle, giving your dog everything they need to be happy and healthy. This means that your dog will be eating more of the good stuff like: meats, fish and vegetables! Above all, we don't use any artificial flavours, colours or preservatives, it's just wholesome tasty food delivered to your door. If your four-legged friend is in need of delicious healthy dog food, welcome to Caboodle.
Start today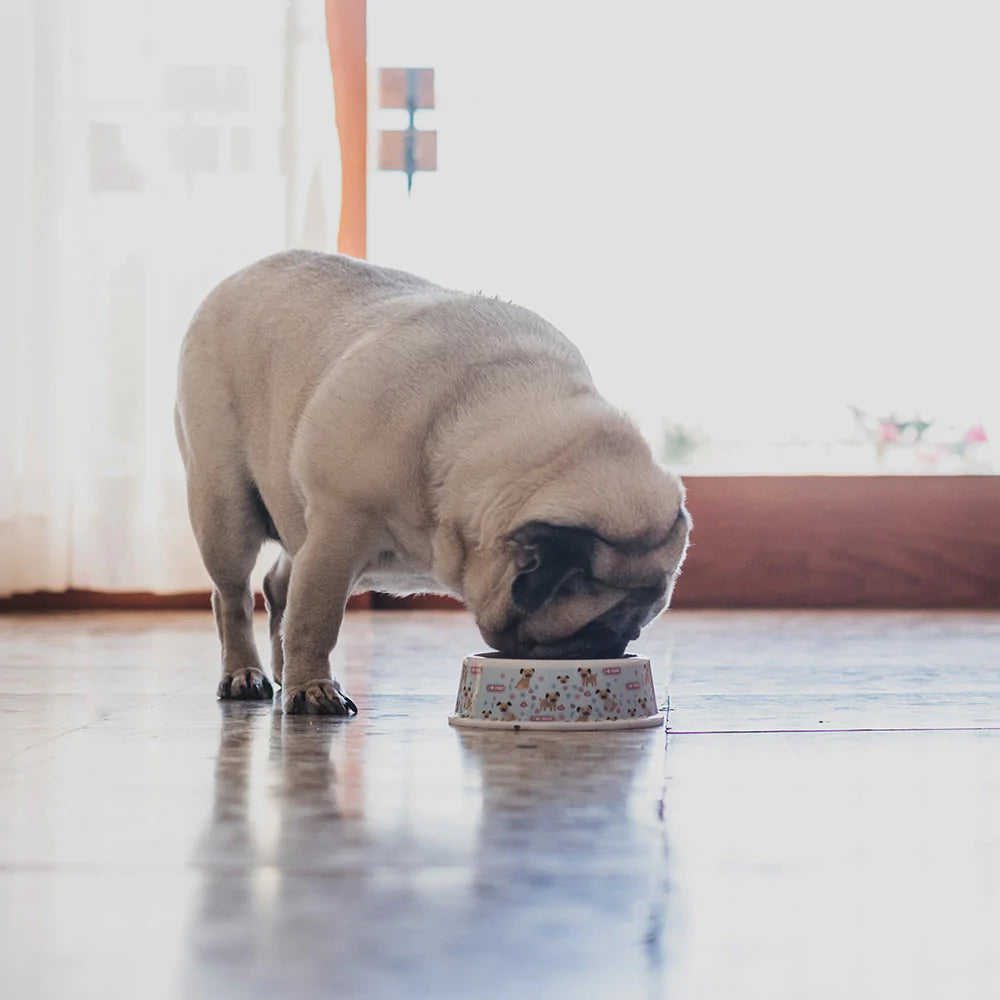 Our healthy dog food subscriptions
As the world gets more complicated, we all look to make our lives simpler and more efficient. With Caboodle's healthy dog food subscriptions, you can save time and effort by having all of your pet food organised for you. If you take part in our quiz, we can work out the meal size portions for your dog and you can subscribe from there. Not only are the portion sizes weighed out for you, the days of the week are mapped out too. Once you've received our delivery and stocked up, you simply open up your food cupboard and select the menu box for that particular day of the week. Throughout the day you will have access to wet and dry food, including chews and treats. You'll be more organised than ever and your pooch will be over the moon with joy.
Quiz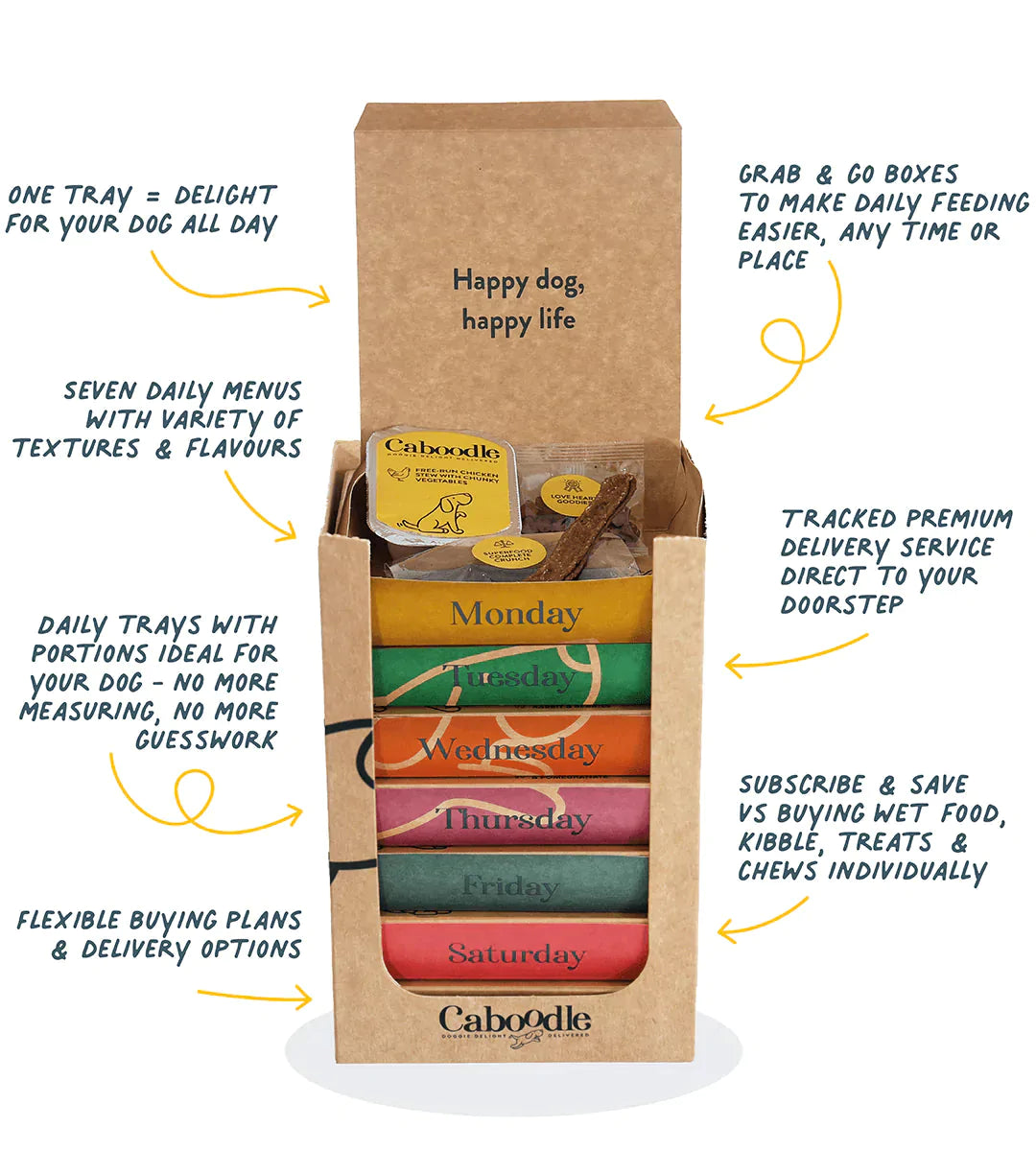 Healthy dog food throughout the week
Take the blues out of Monday with our delightful chicken stew, superfood crunch and treats and chews. Then Tuesday with salmon, brown rice and seaweed treats. Wednesday can bring more joy with scrummy sausage hotpot, sweet potato, duck mini bones and a dental chew. Thursday is duck casserole, blueberries and peas. Fridays are a fun day with fish, dry food crunch and a chicken chew. Saturdays are about steam-cooked turkey goulash, duck meaty morsels and a turkey chew. Then complete the week on Sunday with succulent beef and all the trimmings.
More about our food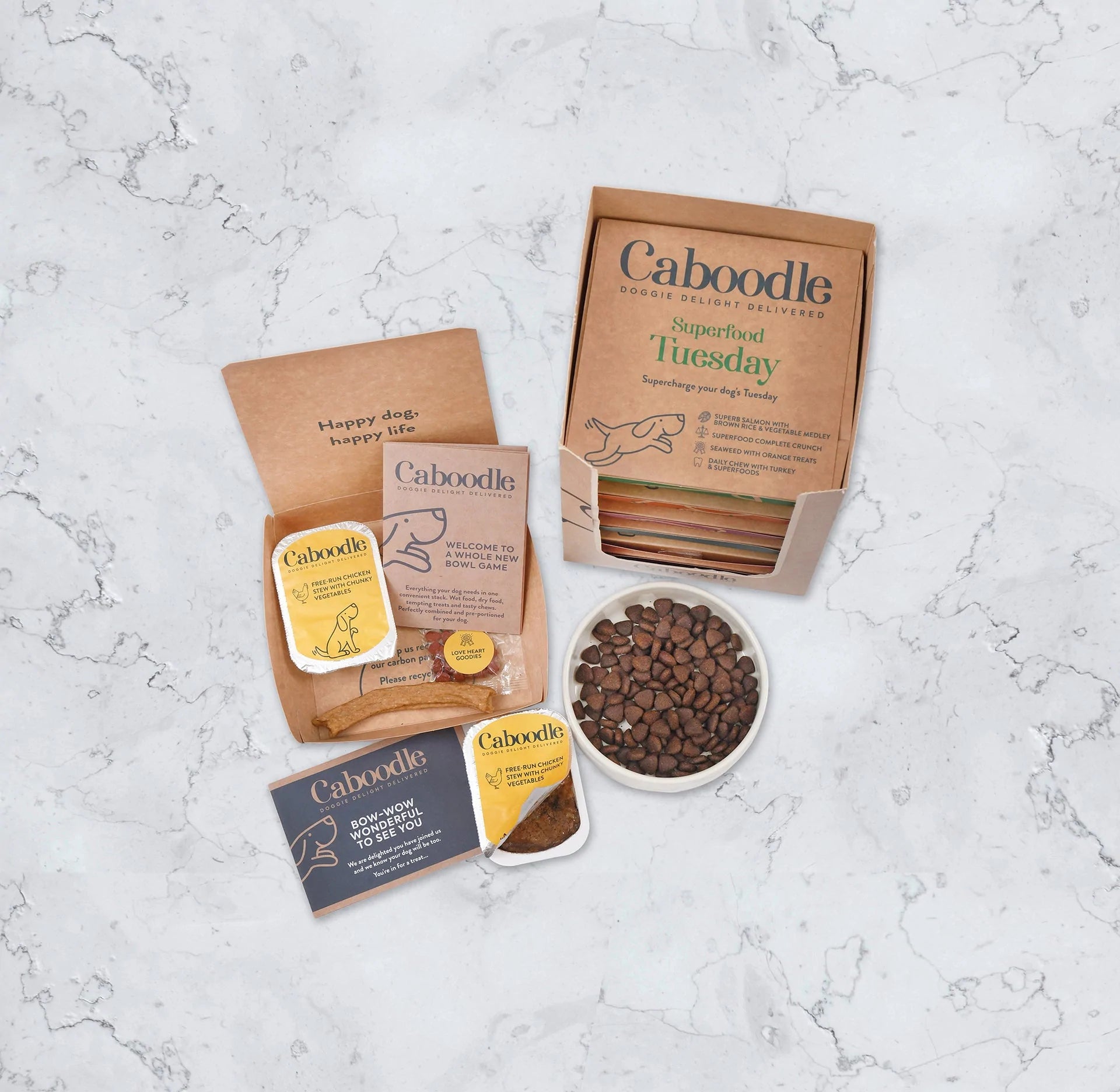 The benefits of our healthy dog food
You will notice that we have carried out the research, so you don't have to. Our meal plans may sound extravagant (and they are!), but the benefits of ordering healthy dog food on a subscription are plenty. Our menu are 100% complete and balanced with a variety of textures and flavours. The dietary plan includes omega 3 to improve brain function and immunity, glucosamine & chondroitin for healthy joints, and healthy prebiotics for sensitive tummies. The food we supply will help keep your dog's teeth and gums healthy and also help support their immune system. Your dog will be pleased to receive the most delicious healthy dog food around!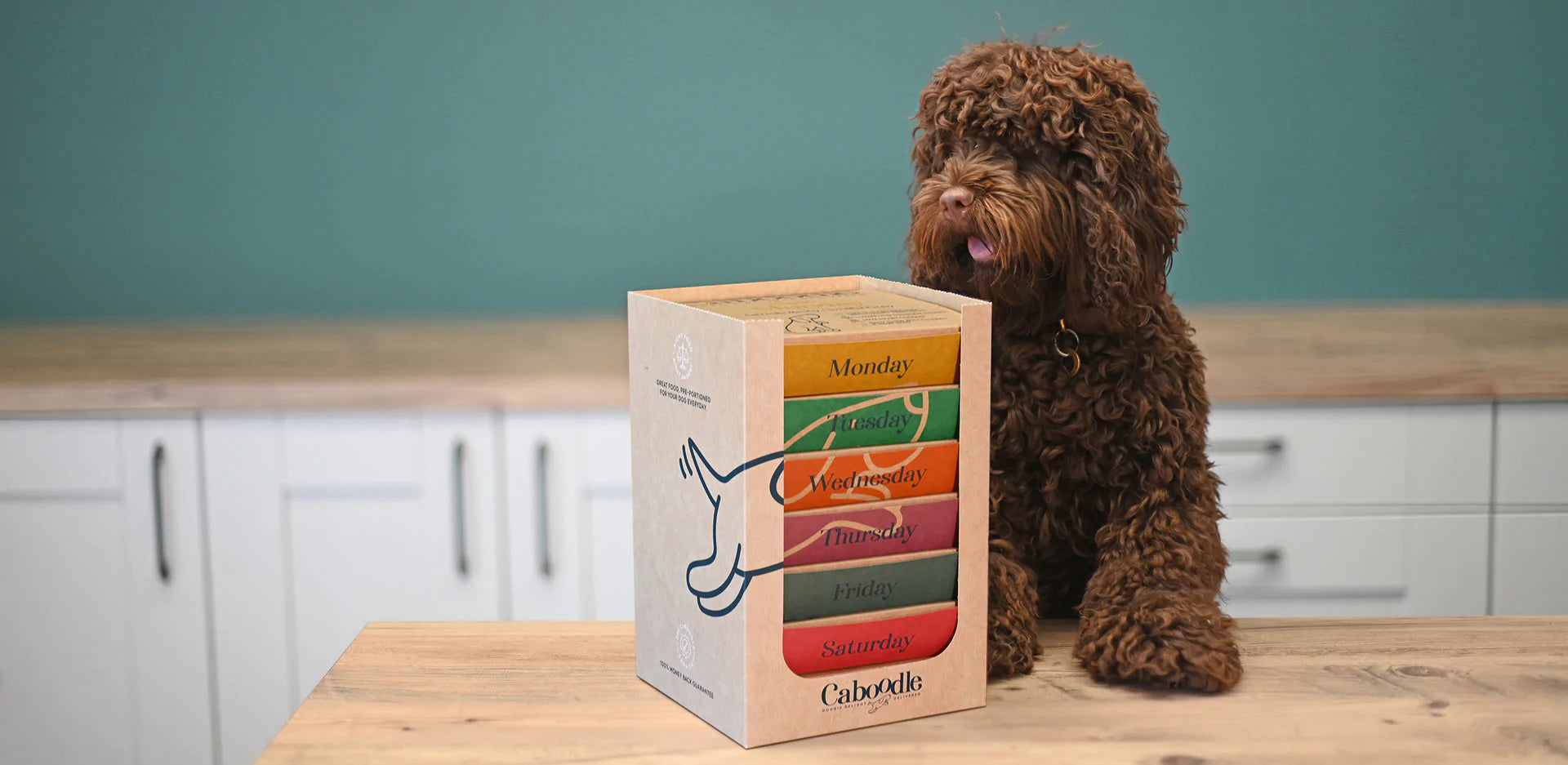 Our packaging is portable & our plans are flexible!
At Caboodle, we offer a subscription service that simplifies your life. Our plans are weekly or monthly, whichever you might prefer. If you're on the move, you will notice everything is organised and packaged with this in mind. Our subscriptions are flexible. So, if something in your life changes, your online subscription can be amended. Therefore, should you need to skip, move, or even cancel the subscription – you will find all of these options available on our website.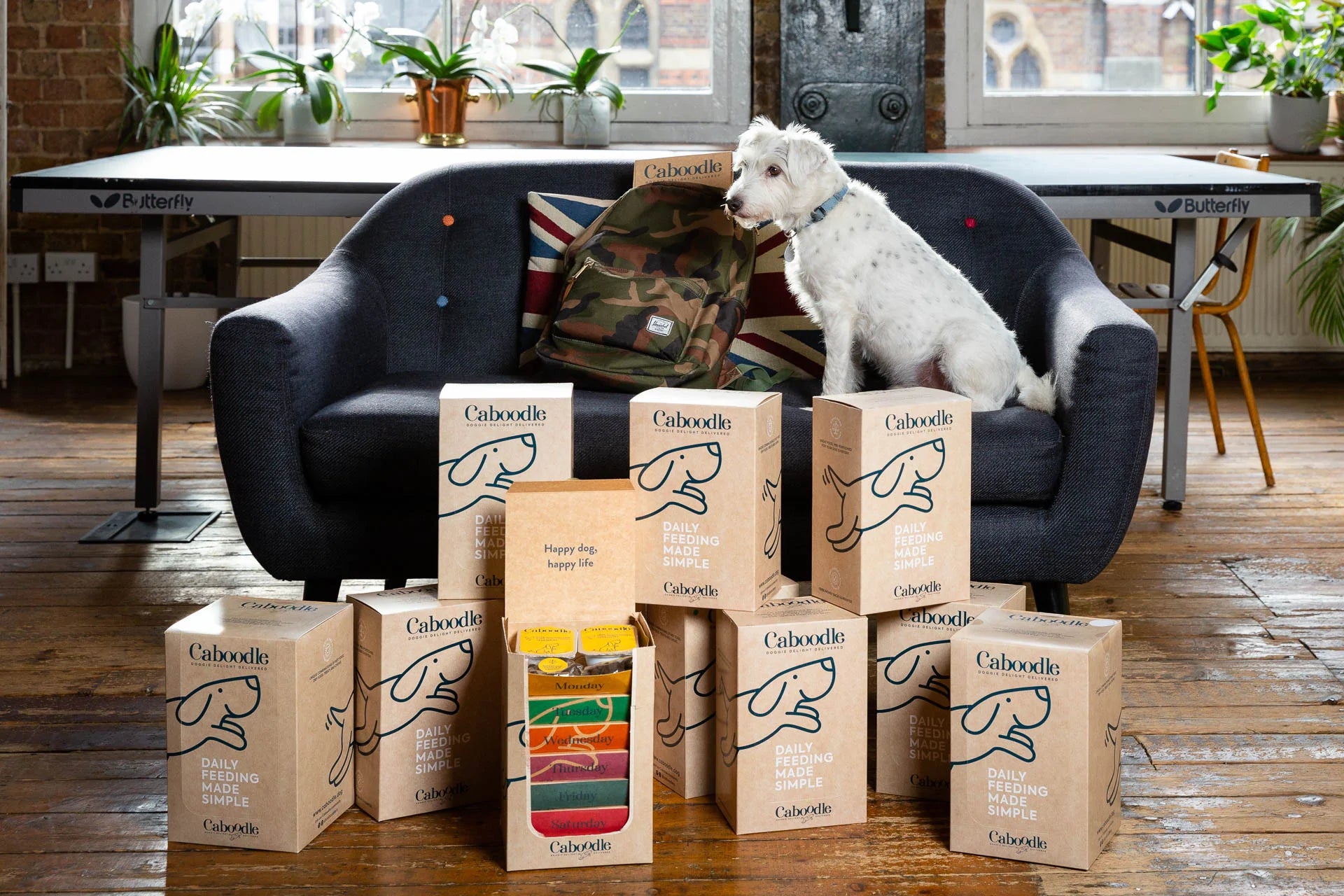 Why come to caboodle for healthy dog food?
Are you still wondering why you should use Caboodle for healthy dog food? Well, we share the same passion for dogs as you do. We see other businesses only serving wet food, or missing out on healthy chews and treats. The weeks aren't planned in the same way as ours and maybe the food is frozen, so you need to be organised with defrosting. At Caboodle, life is much more straightforward. We provide your dog with quality and healthy dog food and the research, planning and organising are done for you.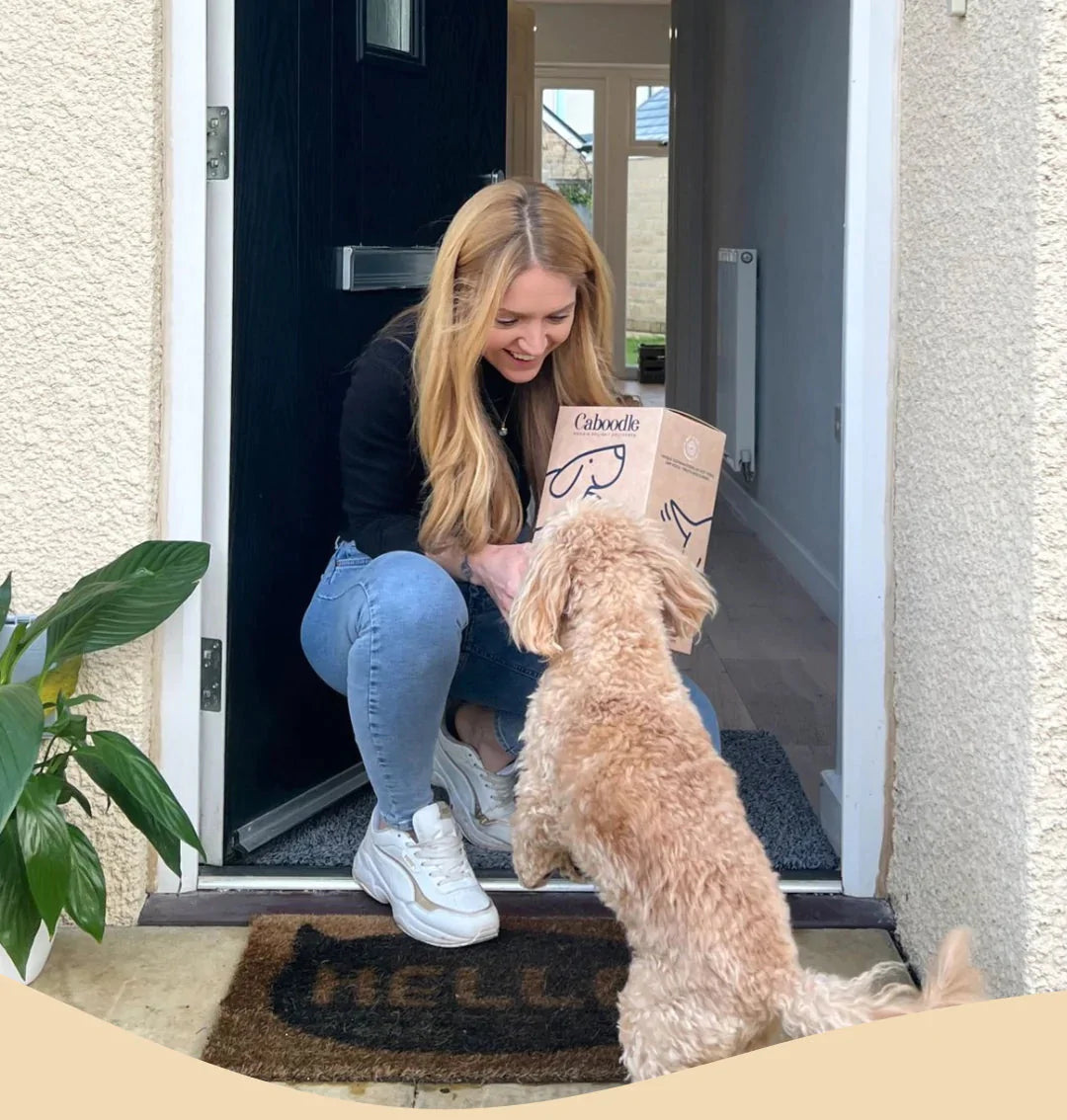 Here's how to subscribe to our healthy dog food…
As we always say, we care about every dog and the food that they are fed. To get the most appropriate Caboodle meal plan for your dog, the best option is to click the link below and take our short quiz. When it comes to selecting options, you can select how much and how often we deliver. Once everything is set up, it's over to you to put the food in your cupboard and watch your dog enjoy their new healthy diet. We hope you enjoy these precious moments with your favourite companion and we look forward to hearing your feedback.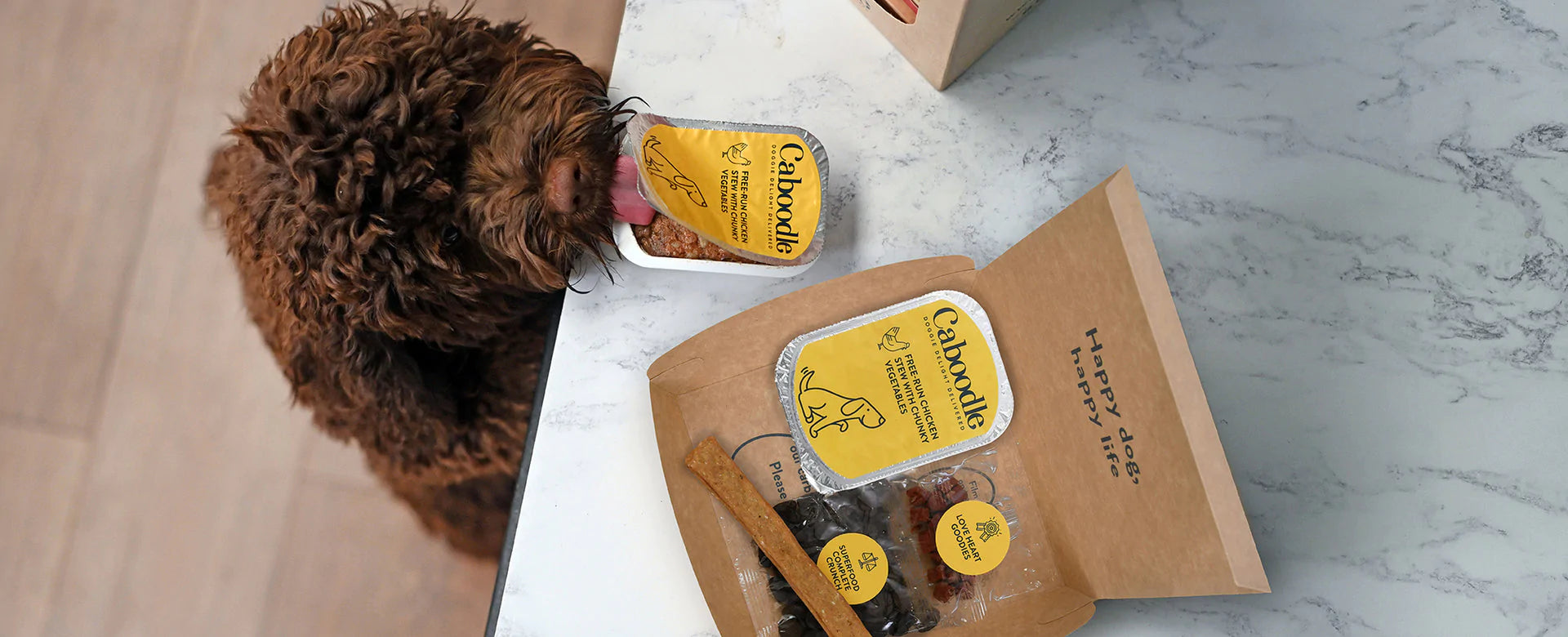 25% off your 1st delivery - use code "FIRSTBOX25"
Take our quiz & get the full Caboodle
Start & receive 25% off!
Start today
Healthy Dog Food FAQ
Is there any advice you can give, while we wait for our healthy dog food subscription to arrive?

If you're carrying out research, you will find that most places tell you to avoid meat-only diets and provide your dog with a controlled amount of fibre. Professionals will advise you to avoid dog food that is high in salt, potassium, and fat. Dairy should also be avoided too. In the same way that we live, dogs are best with balanced meal plans throughout the week. This is why you will find our healthy dog food plans have a balanced amount of meat, fish, vegetables, and treats.
Are there any foods that my dog should completely avoid?

If you didn't know already, some foods are actually toxic for dogs, like chocolate, raisins, grapes, onion, and garlic.
Why move over to healthy dog food?

We know that what you put in your body is reflected on the outside, and the same is true for our pets. A healthy diet leads to good health. When we give our dogs food with only healthy ingredients, we know we're contributing to their happiness and health. A lot of vets agree that dogs are much healthier with a good diet. They will tell you to avoid artificial colourings, flavourings and additives. Like humans, too much too often and rich diets can lead to illness over a period of time.
What other advice can you give someone who is looking for a company to supply them with healthy dog food?

If you have looked around you will have noticed that we are fortunate to have distinct advantages over different competitors. Our packaging is made from recycled materials, we provide weekly diet plans in organised portable containers and we have flexible subscriptions. We want you to know that our whole business has been geared towards delighting your dog whilst providing you with a simple life, promoting healthy eating and protecting the planet.
Can we set reminders about billing?

When it comes to subscriptions and billing, you will be pleased to know that you are reminded 3 days in advance via email.